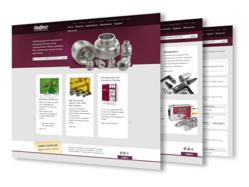 Minneapolis, MN (PRWEB) August 20, 2012
FasTest Inc. announces the launch of its new, easy-to-navigate website, featuring an enhanced design and increased functionality. With innovative connectors for filling, calibration, flow, pressure and vacuum testing applications, the new website details the company's entire offering with product pictures, specs, useful literature, technical articles and videos that illustrate product operation and application suitability.
The new, comprehensive search tool simplifies product selection, allowing users to search by part number, keyword or by using one of FastTest's advanced search options. These options enable customers to narrow the company's extensive product offering with category-specific searches, including application, connection type, pressure rating, connection method, termination and product family. Plus, for the most refined product search, FasTest's "connects to" search function provides connectors that are compatible with specific, user-defined thread profiles, transition thread profiles and sealing ranges.
To provide individual, expert assistance, the website also offers an easy-to-use "Ask an Engineer" feature. After completing a simple, online form, a dedicated products engineer evaluates the application and recommends the most appropriate connector solution. For additional customer support and convenience, FasTest offers an online store where users can purchase common connectors, replacement parts and more.
For additional information, including contact information for lead reports, contact FasTest's publicist: Kate Flaherty (Next Communications). Phone: 952-934-8220. Email: katef(at)nextcom(dot)com.
FasTest is an innovator of productivity and high quality improvement connection tools for pressure, flow and vacuum testing applications. FasTest's complete line of specialty connectors are designed to provide leak-tight, reliable connections for calibration, medical devices and other industrial manufacturing applications. Custom leak test capabilities are available for unusual or unique requirements.
http://www.fastestinc.com • Twitter • Facebook • LinkedIn
For additional FasTest products or information, contact:
1-800-444-2373 • http://www.fastestinc.com • fastsales(at)fastestinc(dot)com