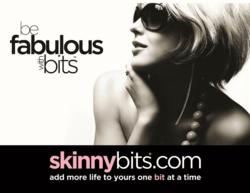 "algae has a thousand times more nutrition than fruits or vegetables."
Boston, MA (PRWEB) August 17, 2012
With September fast approaching, anticipation about fall's fashion collection is building. And while most of us will never own the couture pieces worn by runway models, it's now possible to have their glowing complexion and slim silhouettes. All thanks to SKINNYbits®.
SKINNYbits® were recently launched nationally by a Boston company called Bits of Health Inc. They are tiny "bits" of spirulina algae that you swallow or chew by the handful (like nuts) and are loaded with so much protein, Omega 3 and green nutrition, that not only do they boost your skin and hair health, they also instantly satisfy your hunger and remove fatigue. All for just ONE SKINNY CALORIE.
You read it right. These nuggets of nutrition are just one calorie per tab. No wonder celebrities are stocking up on them. Organically grown and certified NON GMO, SKINNYbits® contain no chemicals, no caffeine, no sugar, no gluten, no soy and no animal products. They are just 100% spirulina algae, a green food crop that is grown in water and 64% protein - the highest concentration of protein in the world (three times more protein than steak).
Algae's high protein count is one of the reasons why it has been revered and used world wide for over fifty years. It is endorsed by The World Bank, United Nations and others as the most nutritionally dense food in the world. Even NASA states "algae has a thousand times more nutrition than fruits or vegetables." Guess that's why astronauts, Olympic athletes and millions in Asia have taken it for over four decades.
But it wasn't until SKINNYbits® gave algae a makeover and made it easy for Americans to understand that it's health, beauty and weight loss benefits became known to consumers here. Now it seems consumers can't get enough of them. It's easy to see why. With just a handful of SKINNYbits® every day, you can have skin like a model, energy like an Olympic athlete and an easy, natural way to stay healthy and slim.
SKINNYbits® are being introduced to the fashion glitterati of Boston at this years' Brazilian Fashion Week Show, August 18, 2012 at the TAJ Hotel, 15 Arlington Street, Boston MA 6:30 pm – 2 am. SKINNYbits® are sold exclusively online at the company's five websites including http://www.skinnybits.com. They are sold in bags of 1,000 tabs for $115, which will last a month (if taking the minimum serving of 30 tabs/day). Each bag come with a stylish travel tin that can be refilled each day and easily tucked into a Chanel jacket, Prada bag or skinny jeans.
The best part of SKINNYbits® is that they are just one calorie per tab and the most nutritionally dense, lowest calorie, greenest snack food in the world. It's always been said that beauty starts on the inside. SKINNYbits® confirms it.
About Brazilian Fashion Week
Brazilian Fashion Week USA is a unique experience for Boston's fashion-forward is organized by Conrad Lamour, the innovative CEO of Providence Fashion Week. The week was conceived to introduce fashion and business professionals to one another in an eclectic atmosphere and includes cocktail parties, runway shows, hosted shopping opportunities, art showings, promotions of local boutiques and beauty-based luxury brands. The week culminates with a VIP fashion show on August 18 at the Taj Hotel. Tickets can be purchased at http://www.eventbrite.com/event/3564291893
About Bits of Health ™ Inc.
Bits of Health Inc.™ is a three year old, nutrition company based in Boston, MA that is making algae easy to understand and easy to take. SKINNYbits® is one their brand that helps boost energy, longevity and weight loss, stops hunger and provides the critical nutrition missing from most American diets. They are 100% organically grown spirulina algae that are dried into little bits, can be swallowed or chewed and meet all FDA requirements. Bits of Health Inc™ have four brands of algae: ENERGYbits®, RECOVERYbits®,SKINNYbits® and VITALITYbits®. Each brand provides different health benefits and are sold in re-sealable bags of 1,000 tabs for $115 that can be purchased from any of the company's five websites at http://www.bitsofhealth.com, http://www.energybits.com, http://www.skinnybits.com http://www.recoverybits.com, and http://www.vitalitybits.com. Each bag comes with a travel tin that can be refilled each day to ensure a ready supply of energy and protein, build the immune system, help prevent colds, help prevent hangovers and more. Minimum serving size is 30 tabs. Tabs can be swallowed or chewed. Each tab contains one calorie. Bags are shipped nationally and internationally.
For more information or to request a media kit and samples, contact:
Alyssa Amand
Media Relations
SKINNYbits®
9 Hawthorne Place, Suite 6R
Boston MA 02114
aamand(at)skinnybits.com
office: 617-886-5106
cell: 339-933-3527
###