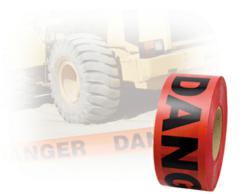 "This is the best hazard warning tape in the market."
Lake Oswego, OR (PRWEB) August 19, 2012
Jump in and join many others that are using the #1 rated industrial floor tapes for all traffic areas of the factory including high forklift and truck traffic to chemicals, greases and pallets. This one of a kind warning tape is the toughest floor tape on the market provided by Creative Safety Supply. The design is proven to outperform paint in the harshest industrial factories indoors and outdoors. No more painting lines on the floors to create areas that may be a safety hazard. No more dry time, cure time, messy clean up, paint fumes and the disappearing act of the paint lines caused by heavy traffic or chemicals. Quick and easy peel and stick installation is what the safety tape provides. No applicator is needed and productivity is never lost by having to close down an area to create paint lines. USA made product is what you will get with the safety tape.
Consumers are raving about the ease and inexpensive way to create hazard warning areas in facilities. Join the forces and stop throwing away money on paint. Barricade tape provided by Creative Safety Supply proves to be the best in the industry for creating a visual fortress around temporary or permanent hazards. Reduce accidents and increases in health insurance by providing a safe and hazard free environment for employees. The answer is in warning and safety tape. The tape is lightweight and can be tied, stapled or nailed to posts, fences or metal barricades. The tape is ideal for both indoor and outdoor applications. Creative Safety Supply provides a full selection of OSHA and ANSI warning tapes and is second to none on the market. Join others in the market by using the #1 rated industrial floor tapes. Per Dan Rose, "This is the best hazard warning tape in the market."
To learn more about warning and safety tape products for all types of facilities, please visit http://www.creativesafetysupply.com for more information.