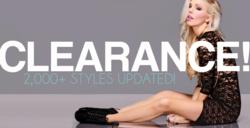 Amiclubwear is where great deals are always in fashion.
Los Angeles,CA (PRWEB) August 16, 2012
The seasons are transitioning so Amiclubwear is getting ready to make room for fall inventory by putting the summer's hottest items on clearance as early as now. What's more, some items are even at 90% off list prices. The good news for Amiclubwear shoppers is; they will be absolutely delighted when they see what's up for grabs on site. If shoppers had budget constraints throughout the summer, they'd be hitting the shopping jackpot during the summer/fall transition with quality fashion items that can even be on sale for as low as $2.99.
If shoppers are wondering what makes an Amiclubwear clearance sale different from other retail sites, here's the deal. Retail sites usually put their summer items on sale in the last few days of summer. Obviously, most online retailers are simply trying to get rid of the last remnants of summer shopping. What shoppers will actually get from that type of clearance are items that have been passed over for the right reasons. The quality of Amiclubwear fashion items on clearance, however, is still at an all-time-high.
People who drop by the Amiclubwear site will surely be on a shopping high when they see what's on clearance sale. The first page alone will give shoppers an idea of what to expect. Attractive bracelets and rings in different glittery and urban designs will jazz up any outfit. Sexy mini dresses in animal print, color block, nude and pastel colors, and bright shades are side by side with wedges and platform heels in delectable summer colors. At the price range they're in right now, they'd be difficult to resist. And that's JUST the first page.
If shoppers click on the other pages, there are more fashion surprises in store for the avid discount hunter. The shoe diva will find a multitude of designs to fit her every mood. The lady who wants to be seen will find neon colored dresses that will surely turn heads. Those with more posh fashion tastes will be delighted with sleek attires in metallic hues and natural animal print, for that powerful vibe. The native Bohemian will feel right at home when she gets a glimpse of maxi dresses in soft fabrics that flutter in the summer breeze. But that's not all that Amiclubwear is willing to offer.
Amiclubwear aims to give its online shoppers so much more than just quality fashion items on sale. The premium online retailer also considers the 'timing' of the biggest clearance sale. By giving its loyal shoppers more time to wear these hot summer items as the days edge closer to the middle of September, shoppers take instant gratification from the purchase.
Amiclubwear knows that the current shopper aims to enjoy fashion purchases immediately, and not have to wait to wear fashion items purchased now by the time another summer season comes around. Who wants that anyway? Plus, the trends may be different in summer 2013, and that would ultimately render shoppers' end-of-summer 2012 discount purchases, unwearable.
With the biggest Amiclubwear Clearance Sale looming, shoppers will get to wear what they want for summer 2012 – longer.