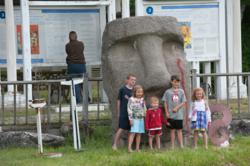 Prometheus stole the fire of the gods and gave it to the mortals.
Manchester, VT (PRWEB) August 20, 2012
The Museum of the Creative Process announces a workshop summit that reframes and redefines psychology. This interactive event will be held August 24-26 and August 31- September 1 on the grounds of the Wilburton Inn, Manchester Vermont's grand historic estate. Featuring leaders of the mental health field, this series provides a systematic model for wellness, personal insight, and emotional education. This summit examines the science of creativity, presenting definitive research about how being creative helps us deal with conflict and trauma. Attendees will learn the skills to understand their life patterns and achieve positive behavioral change.
The keynote presentation will feature Albert Levis, MD, the director of the Museum of the Creative Process, discussing advances in the science of behavior. In contrast to conventional psychology's emphasis on drugs and disability, Levis' work centers on emotional growth and wellness. Levis' model is supported by 30 years of research data has been used widely within clinical contexts, and is now available to the well public as psycho-education and self-discovery.
The event celebrates the recent publication of the scholarly work about the exhibits of the Museum of the Creative Process, Science Stealing the Fire of the Gods (Normative Publications). Guided tours of the exhibits and book discussions will also be featured.
The summit is recommended for the general public, as well as for therapists, educators and clergy. The cost of the event, including room and board is $300 per person, $500 per couple. For more information, please visit museumofcreativeprocess.com. To speak with the coordinator, Maxwell Levis, please contact ml(at)museumofcreativeprocess(dot)com or call 802-379-6350.