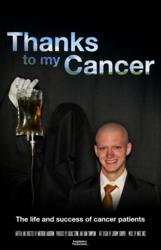 "I did have hope once when they told me about my cancer, and I have hope again that this campaign is going to be a success"
Fort Collins, CO (PRWEB) August 22, 2012
When a young person is given a diagnosis of cancer, the standard response isn't usually, "Thanks, this is going to change my life for the better."
Yet those who survive often say their diagnosis was like a gift.
"After you manage to survive something like that, you can survive anything," said Wilfredo Aqueron, a 35-year-old film student who also happens to be a cancer survivor and an active duty soldier in the U.S. Army. "You're going to get the strength to fight King Kong and Mike Tyson together."
"I remember the face of the doctor," Aqueron said. "His face was like, 'Oh, man, you are screwed."
Aqueron's diagnosis was diffuse pontine glioma, which is a tumor that forms in the brain stem. It's normally seen in small children and usually fatal. Because his cancer was unusual in a man his age, nobody had any clear answers or treatment plans.
"I started doing my own research," said Aqueron, who wasn't encouraged by the grim statistics. Because English is his second language, he wanted to find something that was easy to understand. He looked in vain for a video or documentary about someone who survived and read whatever he could get his hands on.
"I want to leave this legacy," Aqueron said. "I want to reach everybody with this movie, I want to give hope."
Aqueron has written a pre-production script and begun interviewing cancer survivors. He's hoping to find more survivors to include in the film and is planning a visit to western Colorado in September to film interviews with those who have survived and grown stronger because of their fight.
Although Aqueron still a student at the film school, this is a personal project rather than a school project and is not endorsed by an official cancer institute or hospital. He's using his own equipment and money to make the film.
To help raise funds and awareness to complete the project, Aqueron has launched a indiegogo campaign."I did have hope once when they told me about my cancer, and I have hope again that this campaign is going to be a success"
The documentary "Thanks to my cancer" will collect interviews, animation, and footage of amazing cancer survivors who have beaten the odds. They will share their experiences and give you front row seats into their lives showing you their journey of overcoming the emotions of fear and despair and channelizing it into hope and success.
Thanks to my Cancer will be produce and distribute by Anaplastic Film Ltd. Thanks to my Cancer official site. http://www.thankstomycancer.com