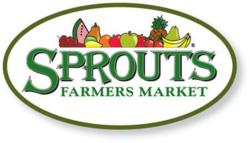 Sprouts team members here in Colorado are proud to lend a hand to friends and neighbors in Aurora to help meet the needs of the victims and their families," said Sprouts Regional Director Tom Critz
Phoenix, AZ (PRWEB) August 17, 2012
Sprouts Farmers Market and Sunflower Farmers Market presented a check today for $100,000 to the Aurora Victim Relief Fund to benefit the immediate and long-term needs of victims of the mass shooting in Aurora, Colorado on July 20, 2012. The large contribution represents proceeds of the sale of excess equipment from Sprouts' recent merger with Sunflower Farmers Market.
"Sprouts team members here in Colorado are proud to lend a hand to friends and neighbors in Aurora to help meet the needs of the victims and their families," said Sprouts Regional Director Tom Critz (right, center), as he presented the check to Marla Williams, President/CEO of the Community First Foundation, which administers the Aurora Victim Relief Fund. "We hope this gesture will inspire and unite others to give what they can, because there is a long road of healing ahead."
Sprouts Farmers Market has 146 stores throughout eight states in the Southwest, including 21 stores in Colorado.
To learn more about Sprouts Farmers Market, please visit http://www.sprouts.com. For interviews with the Sprouts leadership team, please call the contacts listed at the bottom of this release.
About Sprouts Farmers Market
Arizona-based Sprouts Farmers Market's distinctive format offers a bright, cheery shopping experience that has been its cornerstone since the founders, the Boney family, opened their first produce stand in 1943. Our stores feature natural, organic and favorite indulgence foods at a great value, including mountains of fresh produce; all-natural meats; seafood delivered up to six days a week and more than 200 bins of bulk rices, spices, nuts and grains.
MEDIA CONTACTS:
Diego Romero
McFadden/Gavender
O: (520) 882-6262
M: (520) 401-1693
diego(at)mcfaddengavender(dot)com
Karen Gavender
McFadden/Gavender
O: (520) 882-6262
M: (520) 603-4200
karen(at)mcfaddengavender(dot)com