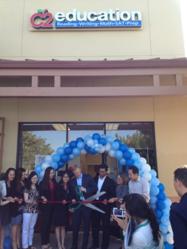 Following the official ribbon cutting ceremony, the Mayor, Mr. Yeh, gave a speech commemorating the event, saying, "I wish I had C2 here in Palo Alto when I was growing up."
Palo Alto, California (PRWEB) August 20, 2012
On Tuesday, August 14, C2 Education celebrated the grand opening of a new location in Palo Alto, California. The grand opening event included a ribbon cutting ceremony with the Chair of the Palo Alto Chamber of Commerce, the Mayor of Palo Alto, Mr. Yiaway Yeh, and the Chief Operating Officer of C2 Education, Mr. Jamie Davidson.
Following the official ribbon cutting ceremony, the Mayor, Mr. Yeh, gave a speech commemorating the event, saying, "I wish I had C2 here in Palo Alto when I was growing up." The city of Palo Alto gave C2 Education a warm welcome, recognizing C2 Education's contributions to local communities. This grand opening serves to continue C2 Education's mission, which is to bring higher academic standards and access to educational opportunities to communities across the country.
With nearly fifty people in attendance, the rest of the evening's events were equally festive, including additional speeches by representatives of the local community and by leaders of C2 Education, individual consultations with students in attendance, interviews and photos with local media, and an award ceremony for C2 students from other local centers. C2 Education also hosted a college admissions seminar for several local Parent Teacher Association (PTA) members led by Ms. Francis Kevers, a certified college admissions counselor and C2's Head of Human Capital.
The opening of the new Palo Alto location marks the sixth C2 Education center in the San Francisco area and the third grand opening in the past month. C2 Education will continue to grow in the upcoming fiscal year with plans to open more than 20 new centers in the near future.
For more information about C2 Education, their locations, and their services, visit http://www.c2educate.com or call (800) 777 – 7000.
ABOUT C2 EDUCATION
C2 Education was founded as an in-home tutoring service run out of a Harvard dorm room in 1997. From those humble beginnings, C2 has grown to include more than 120 tutoring centers across the country serving thousands of students each week. C2 students enjoy fully customized programs, one-on-one interaction with highly qualified teachers, and the support needed to succeed throughout their educational careers. C2's results speak for themselves: C2 students increase their SAT scores by an average of 350 points, 100% of C2 students pass state standardized tests, and 85% of C2 students go on to attend a top 50 college or university.