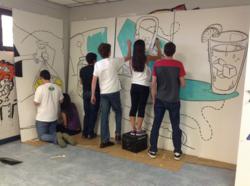 Gainesville, FL (PRWEB) August 22, 2012
This month, 40 motivated students are going back to their high schools ready to change the world. Although, having spent five weeks as participants in the University of Florida Young Entrepreneurs for Leadership & Sustainability summer program, each of them have already made an incredible impact.
YELS students completed 3,760 volunteer hours this summer, creating lasting change in the greater Gainesville, Fla. community. Students volunteered with the Alachua Conservation Trust, the Phoenix Neighborhood Afterschool Program, Rebuilding Together North Central Florida, and many other community organizations. All of the hours are being tracked using the NobleHour platform.
YELS students are also using NobleHour to find new volunteer and internship opportunities, share content amongst program alumni, and view reports on their past hours and social impact.
Most of the students attend high schools with volunteering requirements, or are pursuing scholarships that require service. Not only did YELS help them reach service goals, it also helped them develop organizational, leadership, and social skills that will help them be successful in higher education.
In addition to volunteering, YELS students live and learn on the University of Florida campus and complete two college courses: "Exploring Entrepreneurship" and "Social Problems and Solutions". Through speaker series, they learn directly from successful social entrepreneurs, including NobleHour founder Callahan Fore.
Fore was a graduate of the inaugural YELS program, and that summer inspired and enabled him to develop NobleHour into what it is today.
YELS students have served a total of 19,175 hours since the program began in 2007.