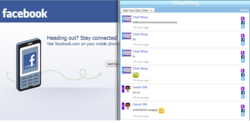 Memphis, TN (PRWEB) August 17, 2012
The Chatwing Development team has recently launched a chat widget built for avid Facebook users and gamers. This chat application is known for its versatility and adaptability in hundreds of blogs and websites. Additionally, the Chatwing tool can also be used as live stream chat alternative. The recent version of the Chatwing shoutbox also has social media login options, admin conversation control, and a direct link feature.
Chatwing's free chat box has been used in purposes more than one. These purposes range from visibility increase, improved web interaction, social network widening, and global information relay. Facebook users can now rely on the Chatwing tool to promote their groups and pages, making Chatwing an immediate professional solution for everyone. Chatwing chatbox can also be integrated to Facebook pages with the help of an application called Lujure. This makes a Facebook page highly interactive. Chatwing's direct link option also allows users to send shortlinks instead; these shortlinks can be shared in Facebook, promoting centralized group chats on a regular basis.
Chatwing's first expansion has circled onto blogging sites such as Wordpress and Typepad. Because of the simplicity of Chatwing's free shout box, it has generated thousands of signups from these blogging sites. As more features are being introduced, the Chatwing team expects that the influx will become larger in just few months. Bloggers have also admired Chatwing app's easy installation mechanism; the average installation time takes only seconds to accomplish.
Facebook expansion is just one of Chatwing's strategic plans. To cope with growing trends and influxes, Chatwing's developers will always perform maintenance checks and introduce new developments. In this way, the Chatwing shoutbox will continue becoming more useful for thousands of Facebook users, bloggers, and web surfers across the Internet.
About Chatwing.com
Chatwing.com specializes in the new field of website chat. Over years, the Chatwing team has introduced live chat box for hundreds and thousands of blogs. The Chatwing application bridges people from many parts of the world, creating global synergy through the Internet. The shout box can be installed in just seconds, and it can be used for varying purposes such as leisure and Internet marketing. It also allows a user to customize the size, color, and name of the widget. Chatwing is 100% free for everyone.