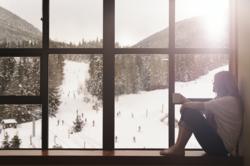 Book by August 31st and pre-pay for the stay of 1 to 6 nights will save 25% on all suite rates
Whistler, BC (PRWEB) August 20, 2012
Smart Skiers are already making plans for a 2013 ski vacation where they are sure to find snow, lots of snow! Even though it is still mid-summer, Whistler and Blackcomb Mountains have snow at the top… that means there will be a fine base to build upon this coming winter. The team at Pan Pacific Whistler is ready and waiting to assist vacationers planning to visit these dynamic mountains during winter 2013.
Guests who choose Pan Pacific Whistler Mountainside or Pan Pacific Whistler Village Centre for a winter ski get-away, book by August 31st and pre-pay for the stay of 1 to 6 nights will save 25% on all suite rates at both Pan Pacific Whistler locations. Guests staying longer, 7 nights or more, will receive even greater savings, as high as a 35% reduction on suite rates. These "SUPER Early Booking Offer" rates at the Whistler resorts are guaranteed to be the lowest winter rates offered all season long at both of these two prime hotels for ski season 2013.
In addition, when booking a suite at the Pan Pacific Whistler hotels, guests are able to pre-purchase lift tickets for Whistler and Blackcomb Mountains. By purchasing lift tickets when making a Pan Pacific Whistler booking, guests will receive savings up to 52% off the regularly priced lift tickets. For this discount, lift passes must be purchased through the Pan Pacific Service One team. Like the "SUPER Early Booking Offer" accommodation rates at the hotel, the lift ticket discounts are available only until August 31st.
Pan Pacific Associates, dubbed the "Service One" team, are available 24 -hours each day at both Pan Pacific Whistler properties. The Service One team takes pleasure in assisting guests with all ski vacation needs, from pre-booking ski and snowboard rentals, purchasing lift tickets and organizing lessons or guided mountain tours. The team is well versed in arranging ground transportation from Vancouver International Airport to the resort. Their goal is to help each guest finds his or her way into the most suitable suite in the two hotels, while offering the best accommodation choices and value in Whistler Village.
Each suite at Pan Pacific Whistler properties includes an in-suite gas fireplace, a private balcony, a full-size, fully stocked kitchen, delightful alpine views and soaker tubs with Aveda salon amenities. Complimentary perks include daily breakfast (Pan Pacific Whistler Village Centre location only), wireless Internet and local calls, in-resort shuttle and slope-side ski valet for skis and boards. Both Pan Pacific Whistler locations have heated, outdoor, salt-water pools, 2 whirl pools and a fitness room, with either a steam room or sauna adjacent to the pools.
For more information or to book this amazing offer for winter 2013 at the Pan Pacific Whistler Mountainside or the Pan Pacific Whistler Village Centre email whistler_res(at)panpacific(dot)com, call the hotel at 1.888.905.9995 or visit http://www.panpacificwhistler.com.
About Pan Pacific Hotel and Resorts Global Hotel Alliance's GHA Discovery program: Global Hotel Alliance was created in 2004 and is the world's largest partnership of independent hotel groups. Travelers can be sure that they will have a unique, local experience in an excellent four- or five-star hotel, while receiving consistent levels of service and recognition, regardless of their choice of hotel or destination. As travelers accumulate qualifying room nights at Global Hotel Alliance hotels, they are automatically upgraded to the next membership level to make each stay even more relaxing and comfortable. The free GHA Discovery program membership then entitles return guests to intriguing local experiences, experiences available only at Global Hotel Alliance properties.