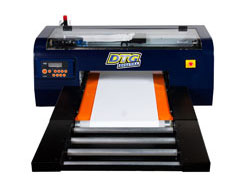 Tampa Florida (PRWEB) August 20, 2012
DTG printing is changing the apparel industry. DTG or digital garment printers make it easier for businesses to print quality materials for their consumers. These are state of the art machines that feature fast printing capabilities and high resolution.
Decorating apparel has been made easier with the products carried by ColDesi, based out of Tampa, Florida. They feature a wide array of DTG supplies, heat presses, embroidery machines and now many new rhinestone machines. This makes it possible for a company to decorate apparel in any way that they wish. Apparel no longer has to be limited to what can be hand stitched.
Embellishing garments has always been fashionable. Now with rhinestone machines, it's possible to make short work of embellishment. The same can be said about many of the other art machines that are carried by the company.
ColDesi continues to offer state of the art machines to their clients. Those that are trying to offer new products as well as those looking to save money will find what they need. Customer service representatives can also provide assistance to those who aren't sure what they are looking for.
Contact:
ColDesi, Inc
http://www.coldesi.com
1-877-793-3278