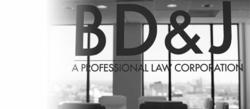 Beverly Hills, CA (PRWEB) August 16, 2012
The California Personal Injury Law Firm Of Banafsheh, Danesh & Javid, P.C. have successfully represented another client in a car accident case. Their latest favorable settlement is a $1.75 Million Dollar Award for their client (Superior Court of California, County of Santa Barbara, Case No. 1381217), a woman who was hit by a commercial truck traveling the wrong way on a California Highway.
According to court documents, BD&J Law's client, a female, was driving her car northbound on a California Highway when the defendant, an employee of a telecommunications company who was driving his work truck, entered the freeway via an off-ramp, driving in the wrong direction. The driver had gone into diabetic shock and was unaware of his actions.
Court documents indicate that the work truck struck several vehicles and the concrete center divider, ricocheting into the number two lane directly in front of the plaintiff giving her no opportunity to take evasive action causing the right rear wheel/right bed side area of the defendant's vehicle to strike the right front of the plaintiff's vehicle. This first impact caused a chain of impacts for BD&J's client, after the first impact, the rear of the work truck climbed the front of plaintiff's vehicle causing the defendant's vehicle to become airborne. The second impact caused the plaintiff's vehicle to strike the metal guardrail which then caused her vehicle to roll backwards until it finally came to rest facing south in the number three lane.
Court records indicate that plaintiff suffered substantial injuries as a result of the accident, including trauma to her spine, a concussion, bruised ribs, as well as various sprains to the plaintiff's extremities. The plaintiff also suffered from post-concussion syndrome symptoms, including anxiety, fatigue, nervousness, tension and insomnia.
About Banafsheh, Danesh & Javid, P.C.
Banafsheh, Danesh & Javid, P.C., is a well-respected Beverly Hills, CA personal injury law firm that serves clients throughout California. The firm maintains offices in Los Angeles, Orange County, San Francisco, San Diego, Riverside, San Bernardino, San Jose, and Sacramento. The firm's lawyers handle cases on a contingency fee basis, not charging a fee unless they can gain a recovery for their clients. They practice all form of personal injury law including but not limited to truck accidents, motorcycle accidents, car accidents, pedestrian injuries, brain injuries, wrongful death and other serious injury claims.
The firm's Car Accident Lawyers also speak Spanish, Italian, Farsi and Hebrew in addition to English and offer free consultations via their toll free number 800-820-1111.