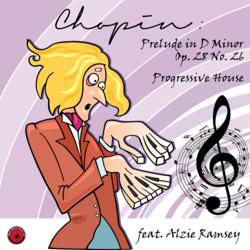 With this in mind, Ramsey wanted to create an arrangement that is popular, DJ friendly and most of all works flawlessly on the dance floor.
Los Angeles, California (PRWEB) August 17, 2012
In a never done before attempt, DJ/songwriter/producer Alzie Ramsey proudly releases an additional composition to Frederic Chopin's many preludes "Chopin: Prelude in D Minor Op. 28 No. 26 (Progressive House) via Black Widow Music, LLC. The single features an excerpt of Chopin's Prelude in C Minor, Op. 28, No. 20, while the song as a whole is based on the harmonic structure of this composition. The song written, arranged and produced by Alzie and mastered by Steve Hall (Madonna, Bobby Brown, Donna Summer, The Beach Boys & Earth, Wind & Fire) represents how Chopin may have composed and remixed if he were alive today with access to modern technology.
Erick Shipmon, Director of Marketing at Black Widow Music, LLC, says "Alzie (Al) believes that if Chopin had any thoughts about EDM today, he would see the future as bright and definitely here to stay. He would also probably label Deadmau5 or Zedd as the top musicians in the EDM genre due to their not being a typical DJ and just mixing and turning knobs for dramatic effects." Erick also states, "Not to shortchange other DJs because there are other great ones, these particular artists are rare and the real deal. The bottom line is that Al is doing the same thing here and staying focused on musicianship. He's a formally trained classical/jazz pianist that can record, mix, master and even take my job as director of marketing if he so desired. In addition to all of this he can really "wow" a crowd by playing multiple keyboards while doing the DJ thing."
Throughout the years many notable versions of this song have been done by prominent musicians (Barry Manilow, Donna Summer), but it has never been approached from the angle of EDM focusing on elements of progressive house music. With this in mind, Ramsey wanted to create an arrangement that is popular, DJ friendly and most of all works flawlessly on the dance floor. Ramsey states that "After many hours of composition, sound design, and yes even selecting a few loops I finally had a product that I was happy with. The element of most importance is that if Chopin were still around I think he would be surprised, but satisfied with it as well."
Although the new single is currently available on iTunes, the official release date is set for September 12, 2012 in which various mixes and remixes will be available on additional selected premium digital stores such as Beatport.
Black Widow Music, LLC (a digital label and music licensing company) was created in 2004. The result after many hours of labor and hard work is a business organization that stays on the forefront of industry technology and practices, but remains true to the "music" and avoids the traps of commercialism. Featuring the best in EDM, Jazz and various genres of instrumentals our catalog is broad and diverse, but prevails on the primary focal point of why the label was created in the first place.
Black Widow Music, LLC: Quality music not quantity music.