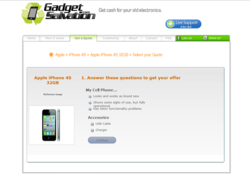 3 easy steps to sell your electronics online
Chicago, IL (PRWEB) August 18, 2012
Gadget Salvation is pleased to announce the launch of its improved user-friendly website to help consumers receive cash for their old electronics in a faster and more convenient way.
Gadget Salvation is a project that started out in 2008 as part of CashYourLaptop.com. After 3 years of testing the model, Gadget Salvation is now to mark the end of beta service and become an improved consumers' solution to dealing with their unwanted computer goods while helping consumers receive monitory rewards for their gadget trade-ins.
It serves as a hub where people get a chance to sell laptop devices and other old e-goods, get paid and at the same contribute to the environmental causes. Gadget Salvation services help consumers understand that the main part of recycling starts with reusing, or as also known in internal slang terms "reGadgeting".
New Improved Features
With its simple three-step approach "Get a Quote- Ship it- Get Paid" Gadget Salvation guarantees a stress-free user experience. Its guided navigation, assists users to find the exact gadget they wish to sell, get free shipping by either printing the label online or requesting a packaging items via mail.
The reason for Gadget Salvation to re-do their old website CashYourLaptop.com came from a consumer demand to sell electronics other than laptops. While Gadget Salvation improved website now tries to include all of the most currently used electronics, if a certain device is missing from the catalog, its customer support will work to personalize offers and add items to the listings to insure that every customer gets a quote and reward.
Example Navigation Steps to Sell iPhone *:
1. Choose iPhone.
2. Select iPhone Model(4S, 4, 3GS, 3, Classic)
3. Select iPhone Memory Size.
4. Select Damage Options.
5. Add to Cash Box and Check Out.
While new smart technologies emerge on the market every month, and people more often find themselves wanting to upgrade to the next big thing, Gadget Salvation with it's improved website is to help repurpose the obsolete electronics and extend their life by taking proper recycling steps. Based in Chicago, Gadget Salvation is on the mission to assist consumers in becoming better world citizens and reward them for their contribution of trading-in used computer devices.
*iPhone is a line of smartphones designed and marketed by Apple Inc.