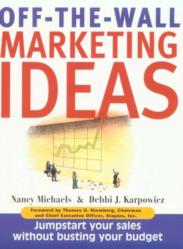 Having you, your product, or your service remembered by potential customers and clients, is the name of the game.
Westwood, MA (PRWEB) August 17, 2012
Why do things the traditional way in business? With today's economy still struggling along, small businesses, entrepreneurs and sole proprietors can benefit from doing out-of-the-box marketing. Branding expert Debbi Kickham calls this "Meshuganah Marketing" ("Meshuganah" being the Yiddish word for "crazy') and it can help businesses to reap more attention and interest in their services and products. Debbi Kickham is a marketing expert at http://www.MarketingAuthor,.com who co-authored the bestselling book Off The Wall Marketing Ideas: Jumpstart Your Sales Without Busting Your Budget and these are some of her favorite Top 10 Unusual Marketing Tips, which any business can easily implement Most of these marketing strategies require creativity, not mountains of cash.. Remember, marketing is the art of being memorable. Having you, your product, or your service remembered by potential customers and clients, is the name of the game. These tips also apply to recent graduates who are seeking their first job and want to stand out from the competition.
1). Take a taxi. Follow the example of the CEO and owner of a Chicago restaurant, Barry Potekin, who became a millionaire because of this idea. With no money for advertising on the first day of opening his upscale hot dog eatery, Gold Coast Dogs, he stepped outside, hailed a cab, drove around the block for five minutes, and talked nonstop to the cab driver about his new restaurant. When delivered back to his door, he gave the cabbie a $5 tip and said, "Next time you're in the area, come by and have lunch on me." He used this tactic every day for a year. The result? After 365 days, all the cabbies in town were parked three-deep outside his restaurant, bringing him hungry customers. Success!
2). Celebrate untraditional holidays. One of Ms. Kickham's clients was the best hair salon in Boston called Salon Acote, http://www.salonacote.com. The owners, Alex and Gaston Safar, are French. For many years Ms. Kickham masterminded a marketing plan for this salon, in which they celebrated Bastille Day – a French national holiday – by offering discounts and freebies to their clients. With no other salon in Boston -- or America -- doing this on July 14, Salon Acote always got prominent media attention and – Voila! -- new customers.
3). Create Your Own Holiday. If you can dream it up, chances are you can get it listed in Chase's Book of Annual Events (http://www.chases.com). This is where savvy marketers dreamed up things like Take Your Daughter To Work Day, and National Ice Cream Month in July.
4). Give Yourself An Unusual Title. Off The Wall Marketing Ideas profiled the president of a bean company whose business card listed her as "The Bean Queen." When you visit Vistaprint's headquarters in Lexington, Mass., the receptionist is now "The Director of First Impressions," http://www.vistaprint.com. It costs nothing to give yourself a creative title that people will remember and be impressed by.
5). Get A Gimmick. A financial planner sent out $1 lottery scratch tickets to potential new customers, with a sales letter that had the message, "Take a chance on me." It worked. Lottery tickets may be corny, but if you received one in the mail with a smart marketing letter, it would be embedded in your mind, and on your radar screen, the next time you needed a financial planner. That's Meshuganah Marketing at its best.
6). Surround Yourself With Civic Marketing. Sometimes called "cause marketing," this is a great way to do good for others as you do good for your business. Add pizzazz to your promotion by thinking of your own civic marketing campaign. A deli in New York, for example, successfully used the catchphrase, "A pint for a pint," in which they partnered with the local Red Cross and offered a coupon for a free pint of chicken soup, to everyone who donated a pint of blood.
7). Nix the boring nametag. You know those tags you get at business meetings, which say "Hello my name is" and you write in your name? That's a snore. To get conversations started, create your own mini nametag. For example, if you're a travel professional who specializes in Hawaii, create a small-sized nametag with palm tree art, a creative tag line and the word "Aloha." Have it laminated at Staples for about $2 and secure it to your jacket. Presto! Instant conversation piece.
8). Send something special. When Ms. Kickham was in college, she wanted to write for Cosmopolitan Magazine. Back then, the late Helen Gurley Brown was the Editor-in-Chief. Ms. Kickham devoured her autobiography to find facts about her, and discovered that Ms. Brown always munched on raisins and diet Jell-0, to stay on her strict diet. Ms. Kickham wrote her a letter, and gift wrapped – you guessed it – and she got a reply from Ms. Brown a week later. When you go the extra mile, your potential clients and customers will always notice.
9). Visit $1 stores. Here you will find a plethora of possible promotional products! There's no need to chase down expensive promotional products companies for pens and caps, when your nearest el-cheapo dollar store offers fodder for your imagination. Some of the best marketing and public relations campaigns truly require more creativity than cash.
10). Cross-Market Your Business. It is always smart marketing to align your business with another company because it's usually a win-win for both. If Pepsi and pizza can, why can't you? One of Ms. Kickham's clients was a dentist who wanted to expand his customer base. So she put him in touch with, of all things – a hotel -- a local hotel that offered wedding packages. She got the hotel to offer this dentist's teeth-whitening services as part of their bridal package. By aligning with this hotel, the dentist got several brides as clients – brides who had a mouthful of beautiful white teeth for their wedding day.
Debbi K. Kickham is a former Editor of Robb Report Magazine – "The Millionaire's Magazine," http://www.robbreport.com -- and former broadcaster of the "Marketing Minute" heard on Money Matters Radio in the Boston area, http://www.moneymattersradio.net.
Her Boston-area marketing/communications firm, Maxima Marketing (http://www.MarketingAuthor.com) handles clients in the beauty, fashion, home décor and lifestyle industries. Ms. Kickham is a dynamic spokesperson and public speaker at business conferences, and even on cruise ships. Email her at DKK(at)Marketingauthor.com.
For More Information Contact:
Debbi Kickham
(781) 407-9305
DKK(at)Marketingauthor(dot)com