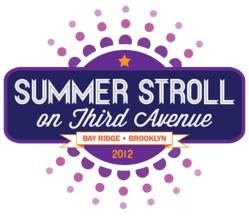 We transformed 3rd Avenue into a pedestrian plaza filled with musicians, performers and artists
(PRWEB) August 17, 2012
The Brooklyn Summer Stroll project is coming to a close on it's inaugural season. Summer Stroll is a custom created project based on Summer Streets, the five year old New York Department of Transportation project that closes streets for everyone to play, run, walk, and bike. Summer Stroll celebrates the last of it's four nights in Bay Ridge, Brooklyn, tonight, August 17 from 6-10:30 PM. .
The project has been presented by the Merchants of 3rd Avenue in Bay Ridge along with New York State Senator Martin Golden and New York City Councilman Vincent Gentile and is a version of Summer Streets with a slight modification. It takes place at night and will attempt to create a marketplace plaza or palazzo atmosphere featuring food, entertainment and performers. Activities include exhibitions from the Brooklyn Nets, Brooklyn Cyclones, an all-female barbershop quartet, classes on making your own egg cream and samples of the tastes of all the eateries on Third Avenue's famed restaurant row and much more.
New York Councilman Vincent Gentile said last week on New York Real Estate Attorney Robert Howe's radio show Howe's New York that he will be providing face painting for kids as well as "...a magician.." performing right out in the street.
New York State Senator Martin Golden, also a guest on Howe's New York, added that Summer Stroll would "Bring that culture...open space...good old home town" feel back to the community. He also stated that this "...will be a totally different type of event..." that is "...unique to (our community."
In addition to Senator Golden, Summer Stroll is also being sponsored by local Bay Ridge businesses Flushing Bank, Kaleidoscope Toy Store, Northfield Bank, TLC Reverse Programs, Jabour Realty Company, Harbour Abstract Agency, Jovi Brooklyn Social and McLaughlin Funeral Home.
"We transformed 3rd Avenue into a pedestrian plaza filled with musicians, performers and artists," said Merchants of 3rd Avenue officer and The Bookmark Shoppe owner Bina Valenzano.
The Summer Stroll project culminates tonight after four Summer Friday nights: July 20 & 27 and August 10 & 17 - with the August 10 evening being canceled due to severe weather conditions. It will take place on 3rd avenue in Brooklyn between 82-89 street
Founded in 1933, the Merchants of Third Avenue Civic Improvement Association is a non-profit organization that covers the commercial corridor of Third Avenue in Bay Ridge, Brooklyn from 65th to 101st Street. The 36 block strip is home to over 300 businesses employing over one thousand people.
Summer Streets is a project of the New York City Department of Transportation. DOT is joined by several other City agencies and the Mayor's Fund to Advance New York City to present Summer Streets