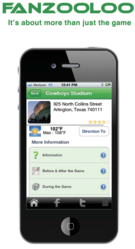 What makes Fanzooloo different is the core audience – sports fans – and its mission to focus on fan recommended locations and deals that will appeal to sports fans.
Los Angeles, CA (PRWEB) August 20, 2012
Fanzooloo, a fan-based mobile application and website geared toward sports fans nationwide, launches their mobile check-in system as they expand into college sports September 1, 2012 at the Alabama vs. Michigan Cowboys Classic in Arlington, TX.
Described as ESPN meets Trip Advisor or a Yelp for sports fans, Fanzooloo streamlines the fan experience so anyone can easily find and book parking, purchase last minute tickets and merchandise, avoid tourist traps, and find great deals at local haunts.
On the Fanzooloo website (http://www.fanzooloo.com) fans can find the same information as the mobile app, and a lot more - it is designed like a sports and leisure magazine - a combination of sports, entertainment, food, and social activities near each venue. Like Huffington Post or Bleacher Report, Fanzooloo's content is both fan-generated and aggregated, however, Fanzooloo differs because it is much more than just a blog or sports news site. It is an interactive and engaging sports application, targeting the overall live game experience – leisure, food, drink, and social interaction.
The addition of the mobile check-in system makes Fanzooloo a direct competitor to Yelp and Groupon. What makes Fanzooloo different is the core audience – sports fans – and its mission to focus on fan recommended locations and deals that will appeal to sports fans. Although the check-in system will premier at the Cowboys Classic, Fanzooloo will encompass all SEC football teams this season, as well as roll out the check-in system for NFL teams and stadiums.
The benefit of using Fanzooloo is when fans 'favorite' a team, they have the option to get immediate push notification deals relating to their favorite teams on their mobile phone. "So if the Cowboys win, a restaurant like J Gilligan's in Arlington can post an offer like 'Stop by and celebrate the Cowboys win with 2 for 1 hot wings,' and fans will get an immediate notification on their mobile phone while they're at the game," says Fanzooloo CEO, Kaylyn Thornal. "I'd rather wait out the traffic with some hot wings than fight 90,000 people to get back to Dallas, you know?"
Fanzooloo already includes over 1500 merchants and detailed information for every NFL, MLB and NBA team stadium. Fans can find what local bars offer a free shuttle to the game; locate and purchase parking and game tickets within the app; read, write and share fan experiences; find pre-game happy hours; and conveniently locate fan recommended food and beverages inside every stadium.
To promote the SEC college launch, Fanzooloo is giving away a trip to the Cowboys Classic at http://facebook.com/fanzooloo. At the Cowboys Classic, fans can check-in at the Fanzooloo tailgate party at the stadium and get free team swag, or can check in at the Fanzooloo college launch party at J Gilligan's for beer and burger specials. The first 200 check-ins at the launch party get a free local beer sponsored by Ft. Worth's Rahr & Sons Brewery.
Since their spring 2011 roll out, Fanzooloo has steadily built a following of fans who are helping to grow the website. Their partnerships include Football Fanatics, Parkwhiz, and Vivid Seats among others. Fanzooloo recently partnered with Ticketmaster to further expand their ticket offering. The Fanzooloo founders, staff, and content creators are based throughout the country, and are all die-hard sports fans.
Mobile download: http://fanzooloo.com/appstore
Fanzooloo, it's about more than just the game
http://www.fanzooloo.com
Contact: Michael Duggan
fanzooloo(at)katapps(dot)com