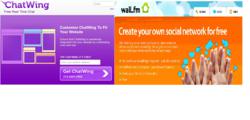 Columbus, OH (PRWEB) August 17, 2012
Gaming is now considered as a very important part of the Internet. In different parts of the world, gamers from different consoles are discussing tips, tricks, and walkthroughs. Chatwing, a company that excels in making chat apps, has observed that Wall.fm users are making a lot of discussions about console gaming. To help these users communicate with ease, Chatwing has released a chat widget filled with simple but useful features. These features range from social sharing, blog interaction, 1,000-user capacity, admin control, and easy installation.
Every month, new console games are being introduced in the gaming market. These games are dynamic--their developers change styles and features every now and then. Chatwing's free shout box can help gamers reach each other by providing a 'bridge' of online communication. One of the features that make the Chatwing application reliable is social media integration. This allows users to log in with their social networking accounts like Facebook or Twitter. Once logged in, the users can now send invitations to each other. Facebook gamers have also used the Chatwing app because of its massive online reach. The Chatwing chatbox is also designed to improve the visibility of a blog or website. In a Chatwing chatroom, people can discuss thousands of topics and share different links.
The Chatwing team has noted that console gamers in Wall.fm tend to talk about the advantages and disadvantages of each gaming console. Some would even lead to debates and online arguments. Nevertheless, this proves that the niche of console gaming is still gaining ground. Chatwing's free chat box has also a 1,000-user capacity, yet developers are still planning to introduce a higher upgrade.
Ensuring the satisfaction of users has always been Chatwing's main priority. Aside from Wall.fm, the Chatwing team is planning to introduce the shoutbox in other online sectors such as Lefora, Yola, Webs, Weebly, and many more. Chatwing developers are also maintaining a Facebook page to keep users well-informed all the time.
About Chatwing.com
Chatwing.com specializes in the new field of website chat. Over years, the Chatwing team has introduced live chat box for hundreds and thousands of blogs. The Chatwing application bridges people from many parts of the world, creating global synergy through the Internet. The shout box can be installed in just seconds, and it can be used for varying purposes such as leisure and Internet marketing. It also allows a user to customize the size, color, and name of the widget. Chatwing is 100% free for everyone.