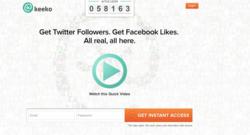 Ottawa, On (PRWEB) August 17, 2012
Getting Tumblr followers, LinkedIn shares and others may seem like the sole purpose for social media exchange sites, but not for Keeko.com. In a previous blog post published on their website, Keeko talked about how individuals talked about the tendency of netizens to gravitate towards similar-minded people, thus narrowing down connections. This, gleaned from senior researcher at the Berkman Center for Internet and Society at Harvard University Ethan Zuckerman in a talk which he conducted in a TED Talks Conference.
"We do not only explore ways on growing one's network; we are also very interested in insights like these that help us shape future goals for the site," says Diana Quartin, Creative Director of Clicking Labs.
The insight brought about an additional motivation to the team in providing more ways for people to connect. "Zuckerman is right – the Internet may be connecting people at faster rates, but we are not looking at what's actually happening inside it. Despite the power that the functions of the Internet brings us, most of us aren't using it to its full potential," adds Quartin.
With the recent addition of Tumblr into their list of supported networks – the functionality being launched on August 15 – the Keeko Team continues to hold a positive outlook for the work currently being done to improve services on Keeko, which will include supporting more social media networks, as well as improvements in the website design, additional functionalities and user interface; all this to help encourage interconnectivity with individuals and groups beyond the limitations of immediate circles.
For more information, those interested can log on to http://www.keeko.com, where they can sign up right away by providing an email address and a password. As soon as the account is confirmed through email, users can begin to earn points which they can redeem by gaining followers on
Tumblr or Twitter, shares on LinkedIn and Google Plus Ones.
Other updates and news from Keeko can also be found on Twitter.
About Keeko
Keeko is a wholly owned company by Clicking Labs. With dedication and perseverance they were able to bring together a diverse team of web professionals to provide internet businesses with creative web marketing strategies. Founded in Ottawa, Canada, the company has expanded operations to Cebu, Philippines in early 2011 to better serve its clients.