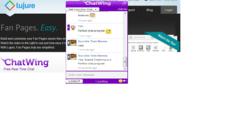 Nashville, TN (PRWEB) August 18, 2012
Lujure, an application that extends widgets to Facebook pages, can now be used by users to integrate the Chatwing chat box to Facebook pages. The Chatwing application is known for its easy usage mechanism, social media capability, and immense visibility boost. Additionally, the Chatwing tool operates on the freemium business model, giving high-end accessibility for all of its users. The Chatwing tool has also been released in prominent blogging sites like Livejournal and Typepad. The tool also has an improved capacity of up to 1000 users.
To integrate Chatwing's free chat box using Lujure, a user must setup an account in the Lujure website. In the dashboard, he can now set up the page and widgets that he is planning to use. Setting up a widget is easy--the user just needs to drag and drop the selected applications; he will also get a preview of the page with the application installed. Some users who installed the Chatwing chatbox in their Facebook pages received high spikes of visibility. Now, their page visitors will have a proper and simple way to interact with each other. Additionally, the Chatwing shoutbox can also be installed to most blogs and websites. The installation process is easy and won't take much time.
Lujure's popularity has been growing lately, based on the research of the Chatwing team. This popularity and support has allowed the Chatwing widget to help thousands of users out there. Chatwing's free shout box has also been used in other online communities such as forums and message boards. Company bloggers, on the other hand, are also using the chat tool to relay information about their products and services. Podcast blogs and websites can also benefit from the chat leverage offered by the Chatwing tool.
With its usability rate growing, the Chatwing chat application will be recognized in different online sectors within months. In Facebook alone, the Chatwing team has recorded thousands of signups everyday. The team expects that the numbers will increase as new features roll in. To make the Chatwing app stable, the dev team is conducting several maintenance checks and observation. In this way, technical glitches can be wholly avoided.
About Chatwing.com
Chatwing.com specializes in the new field of website chat. Over years, the Chatwing team has introduced live chat widget for hundreds and thousands of blogs. The Chatwing application bridges people from many parts of the world, creating global synergy through the Internet. The shout box can be installed in just seconds, and it can be used for varying purposes such as leisure and Internet marketing. It also allows a user to customize the size, color, and name of the widget. Chatwing is 100% free for everyone.