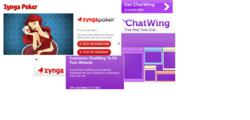 New York, NY (PRWEB) August 18, 2012
Online gaming has gathered much attention from online users. Every day, hundreds of new games are being introduced on the net to meet online users' growing demand. Zynga Poker, one of Facebook's famous games, is continuously attracting gamers and is becoming more popular to Facebook users. In line with this, Chatwing development team has seen the need for a chat widget that will facilitate interaction among Zynga poker fans. Chatwing has released global chat tool that would provide poker gamers an avenue to exchange tips and strategies on playing online poker.
Chatwing's free shout box is reliable in connecting Zynga poker fans all over the globe. In fact, this chat application can accommodate hundreds of chatters all at the same time without decreasing its efficiency. It also has cool emoticons that can liven up conversations. Chatwing also has a conversation control feature that allows a user to delete offensive and profane messages to maintain harmony among other online users.
The free chat box also has a social integration feature perfect for expanding one's social media networks. This feature can greatly help Zynga players in increasing their online credit by asking gifts from Facebook friends or inviting more players for levelling up. The user can actually choose how this shoutbox should appear in a website. Chatwing's forms are actual chat box, pop-up window and direct link URL. User can embed the chat tool to their site or through the direct link URL; one can set up a username which he can send to other gamers or friends for a more private chat.
The importance of continuous interaction and sharing of essential gaming strategies for gamers can not be denied. Aside from gamers, Chatwing's chatbox can also be used in entrepreneurial, research and simple communication purposes.
About Chatwing.com
Chatwing.com specializes in the new field of website chat. Over years, the Chatwing team has introduced live chat box for hundreds and thousands of blogs. The Chatwing application bridges people from many parts of the world, creating global synergy through the Internet. The shout box can be installed in just seconds, and it can be used for varying purposes such as leisure and Internet marketing. It also allows a user to customize the size, color, and name of the widget. Chatwing is 100% free for everyone.