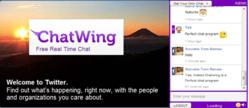 Cambridge, MA (PRWEB) August 18, 2012
Twitter has million of users from all over the world. It has simple mechanism that allows anyone to instantly share their thoughts or useful links for other users to benefit from. Many online users have appreciated Twitter as an online platform for expressing themselves and communicating. On the other hand, Twitter still has limitations when it comes to real time interaction; regarding this concern, Chatwing introduces a free chat widget. This chat box can allow up to a thousand users to chat with each other.
From quick and short exchange of quotes—experiences in Twitter—online users can take the exchange in the next level through Chatwing's free chat box. This chat tool can be installed in one's blog easily, used as a stand alone program, or be selected as direct URL form. Installation can be done in just a few seconds in just three steps. First is to register the blog or website's domain name. Second is to choose the form preferred: regular shout box, pop-up window or direct URL format. Third is to adjust the widget's size and color to finally get the HTML code for embedding.
The direct URL feature is one of the latest improvements of the chat widget. This feature allows a user to set up a username which he can use in inviting other chatters, giving him control on how to communicate. Another innovation is the social integration feature that allows any online user to log in by just providing their existing social media accounts, which means no more registration and no more hassle. These features are advantageous for users whose aim is to expand their online networks.
Chatwing development team is always determined to upgrade the chat box to satisfy the ever changing need of online users. The goal is to meet the need for innovative, real time interaction not just by Twitter users but also by entrepreneurs, writers, gamers and other web surfers.
About Chatwing.com
Chatwing.com specializes in the new field of website chat. Over years, the Chatwing team has introduced live chat box for hundreds and thousands of blogs. The Chatwing application bridges people from many parts of the world, creating global synergy through the Internet. The shout box can be installed in just seconds, and it can be used for varying purposes such as leisure and Internet marketing. It also allows a user to customize the size, color, and name of the widget. Chatwing is 100% free for everyone.