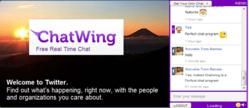 Indianapolis, IN (PRWEB) August 19, 2012
Many people nowadays prefer micro-blogging over traditional blogging, based on the growing numbers of Twitter users everyday. This simply means that people are craving for information speedily, and most of them don't have time to conjure long blog entries. Recognizing this micro-blogging need, the Chatwing team has recently launched a chat widget that can grant a high level of communication for everyone. The Chatwing tool can be freely used by bloggers, web surfers, and virtually anyone who wants to have an entertaining chat experience.
Chatwing's free chat widget is loaded with features that are useful for everyone--blogger or not. Bloggers who have used the Chatwing tool in the past few months have made lots of friends and were able to interact with their visitors in a prime level. Additionally, Chatwing's social media integration has helped the users to expand their social networks. With this option, people can now use their social media accounts to log in, instead of the Guest option. Twitter micro-bloggers can also rely on this option to find new followers. Facebook users, on the other hand, can use the option to send out friend requests to many people. The recent Chatwing chatbox also has a user capacity of 1000, and the developers are planning to upgrade it in the coming months.
Chatwing's developers have thought of various expansions, few months ago. They believe that Twitter micro-bloggers will be able to explore different online sectors with the help of Chatwing free chat box. Some micro-bloggers were even entrepreneurs by heart, and they can rely on the Chatwing tool when it comes to reaching their target market. Trends are also common discussions in any Chatwing chatroom nowadays.
To totally empower the premise of micro-blogging, the Chatwing dev team believes that continuous effort is necessary. A micro-blogger faces certain competition, based on the hundreds and thousands of blogs being created everyday. To ensure the stability of the Chatwing tool, its developers will work in a continuous basis, upgrading the chat platform as often as possible. Maintenance schedules will also be conducted for the platform's betterment.
About Chatwing.com
Chatwing.com specializes in the new field of website chat. Over years, the Chatwing team has introduced live chat box for hundreds and thousands of blogs. The Chatwing application bridges people from many parts of the world, creating global synergy through the Internet. The shout box can be installed in just seconds, and it can be used for varying purposes such as leisure and Internet marketing. It also allows a user to customize the size, color, and name of the widget. Chatwing is 100% free for everyone.