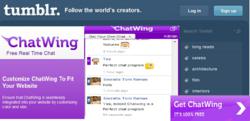 Houston, TX (PRWEB) August 19, 2012
Chatwing has recently created a user friendly and free chat widget for Tumblr film bloggers. The chat tool can be installed easily and can be used in any form convenient for the user. Chatwing can be used as a regular shout box, pop-up window or as direct URL form. Tumblr film bloggers can embed it to their own sites and improve online visibility or they can also use the direct URL style for a more selective chat discussion, choosing only preferred bloggers to chat with.
Tumblr bloggers who are interested on film discussions and analysis can greatly benefit from the use of the free chat box, aside from the ease of access; Chatwing added a social integration feature that makes network expansion easier. Users who want to join in chat activities can log in by using their social media accounts info. Facebook and Twitter log in information are readily available thus making it easier for interested users to add new contacts in their social media accounts.
Film discussions will be more interactive and livelier with Chatwing's chat widget for it efficiently facilitates real-time communication. Chatwing also has cool emoticons and avatars for a more entertaining chat experience. More insights and analysis can be shared since it can allow hundreds of users to chat at the same time. Visitors can now receive juicy and informative film discussion within a short time.
Aside from Tumblr film bloggers, other niche bloggers can also experience the communication leverage Chatwing's chat box can offer. Global connectivity has never been this easily achieved with a dynamic chat tool made available and is constantly being upgraded by Chatwing development team.
About Chatwing.com
Chatwing.com specializes in the new field of website chat. Over years, the Chatwing team has introduced live chatbox for hundreds and thousands of blogs. The Chatwing application bridges people from many parts of the world, creating global synergy through the Internet. The shout box can be installed in just seconds, and it can be used for varying purposes such as leisure and Internet marketing. It also allows a user to customize the size, color, and name of the widget. Chatwing is 100% free for everyone.