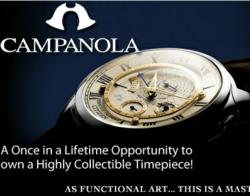 Arizona Fine Time is an official authorized dealer - Luxury watches
Scottsdale, AZ (PRWEB) August 18, 2012
It can be hard to find the right watch; one has to consider style, color, quality and what kind of functions are necessary. With all the brands out there and the updated models that are constantly coming out, this can be a difficult proposition. However, with Arizona Fine Time, everybody can find the exact watch that matches every client.
Arizona Fine Time has been in operation since 1960 and in that time never changed their business philosophy. Arizona Fine Time provides the best quality of service and the highest quality products at the most affordable price. The company also believes in a no-pressure environment, only acting as a guide to help find the right watch for the client. Arizona Fine Time now offers a wide range of Swiss, German, Italian and Japanese watches that can be difficult to find in a normal store.
Some of the contemporary watches available include the newest Glycine watches. Glycine comes from Bienne, Switzerland and was founded in 1914. The man behind it, Eugene Meylan, was a master watchmaker of the richest circles. However, he was constantly pushing himself to make the most advanced time pieces. He eventually invented his own self-winding watch that was highly functional. Meylan's desire for advancement is the spirit of Glycine. Here one can find Glycine's main collections, including their signature collection, the Airman, which was introduced in 1953 and featured the now famous world time function. These watches are best described as a balance between old-world design and the most sophisticated modern technology.
There is much more to be seen, such as the latest Fortis watches. This brand is famous both for releasing the first self-winding wristwatch in 1926, and for being one of the few watches to make it into space. Fortis is the only watch supplier for manned space missions of the Russian Federal Space Agency. These watches were even there to keep the astronauts company during the long hours of the simulated space mission to Mars; a record breaking trip that had them isolated for seventeen months. Fortis is the Latin word for strong, and that is the best descriptor for these watches. Arizona Fine Time features Fortis' best in flight and space watches, and even those that are more artistic and unique, such as the B-42 Art Edition "Planet."
This is only the tip of the iceberg; Arizona Fine Time is an official authorized dealer of Mido watches, Luminox watches and Tutima watches, some of the finest crafted watches from Switzerland and Italy. They are also proud to be the number one USA authorized dealer of Grand Seiko watches, one of the most durable watches to ever be created.
If one want to learn more about the newest watches from Arizona Fine Time, check out their website at http://www.azfinetime.com