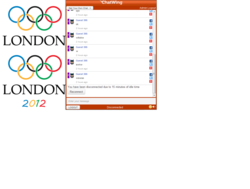 Portland, OR (PRWEB) August 19, 2012
Olympics is certainly one of the most awaited and talked about event these days. Almost everyone wants to be updated about the latest happenings, especially what country is taking home most of the gold medals. News in the Internet about the Olympics is prevalent so it is expected that a lot of blogs are discussing about the same thing. It is timely that the Chatwing team has launched a free chat widget where avid Olympics followers can share their thoughts, opinions and sentiments.
The improved chat box has more features that effectively aids in improving online presence and web communication. This chat tool can be installed in any blogging platforms. Embedding it will only take a few seconds and with just simple steps anyone can perform. Chatwing's shout box is highly customizable; users can choose the chat application form depending on his purpose.
For Olympics fans who wanted to know about what the world's opinion, they can use Chatwing as a stand alone program—this form can accommodate up to a thousand of internet users. Users who are selective, on the other hand, can use the direct URL format for a more private chat selection.
Chatwing's team has developed the conversation control option where a user can delete a chat message that is profane or offensive for most visitors. The chat widget also has cool emoticons that will bring a more enjoyable chatting experience. Users can log in with their Facebook and Twitter accounts—less hassle means more time to connect and get updated.
The Chatwing development team is still thinking of ways to upgrade its free chat box to make global communication more convenient for web users. The team is also planning to introduce the chat tool to hundreds of podcast and event streaming blogs.
About Chatwing.com
Chatwing.com specializes in the new field of website chat. Over years, the Chatwing team has introduced live chat box for hundreds and thousands of blogs. The Chatwing application bridges people from many parts of the world, creating global synergy through the Internet. The shout box can be installed in just seconds, and it can be used for varying purposes such as leisure and Internet marketing. It also allows a user to customize the size, color, and name of the widget. Chatwing is 100% free for everyone.