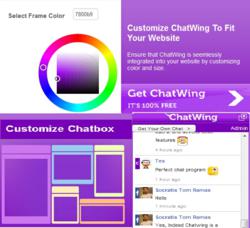 Austin, TX (PRWEB) August 20, 2012
Chatwing is now adding another chat box form that can bring social interaction to a whole new level for many users. This recent chat tool has a direct link feature--an option that allows users to create shortlinks and send them to different social networking sites. Chatwing's new option empowers centralized group chat and lets people customize the way they communicate with each other. A Chatwing chatroom also allows full conversation control, as part of its high accessibility template.
Selecting the direct link option is easy. First, the user must input his blog's domain name and email address. Second, Chatwing will prompt the user to select from three chatbox forms: shoutbox, window, and direct-link. After selecting the direct link form, the user can now customize the appearance of the widget, set up a username, and generate the shortlink. Once the link is embedded, the free shoutbox will become live right away. Currently, the Chatwing tool is mobile enough to handle up to 1000 active users; the developers are planning to increase the capacity. Bloggers who have used the Chatwing app have also remarked that their blogs generated continuous streams of online presence.
According to Chatwing developers, the direct link feature has been making a name in the social media arena nowadays. This is considered as another opportunity, aside from the Chatwing fan page improvement through Lujure. Some online entrepreneurs have used Chatwing shortlinks to reach their specific target markets, deal with their concerns, and consider their opinions. In the coming months, the Chatwing team is planning to put in more features that can help bloggers and web surfers alike.
Chatwing has been around for more than three years already, and it has helped thousands of bloggers attain communication leverage. To make the Chatwing free chat box known across the Internet, the developers are devising a widespread expansion campaign over different blogging sites. Now, people who are looking for a simple communication solution can use the Chatwing shoutbox with relative ease.
About Chatwing.com
Chatwing.com specializes in the new field of website chat. Over years, the Chatwing team has introduced live chat widget for hundreds and thousands of blogs. The Chatwing application bridges people from many parts of the world, creating global synergy through the Internet. The shout box can be installed in just seconds, and it can be used for varying purposes such as leisure and Internet marketing. It also allows a user to customize the size, color, and name of the widget. Chatwing is 100% free for everyone.