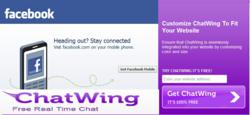 Miami, FL (PRWEB) August 20, 2012
Facebook's advocate groups and people who are always ready to help would benefit from Chatwing's free chat widget that guarantees to provide an efficient platform for global communication. Online users with interest to help and give support can embed this chat box to their blogs to improve online visibility and continuously generate support for a certain purpose. Facebook groups that focus on noble causes can instantly connect with other online users with the same purpose using Chatwing's chat tool. One of its features is the social media integration that allows anyone to log in with their Facebook or Twitter accounts.
During calamity, quick response and help are expected to lessen casualties. Quick call for action is needed. During these times, a reliable shout box comes in handy. Chatwing team has developed the chat application to accommodate hundreds of users without a decrease in efficiency, or can be used to chat with selected online users through direct URL link. The direct URL link allows a user to create a username which he can share to chosen friends or groups and start a more private chat discussion. The direct URL feature is perfect for advocacy groups when planning out for a rescue or calamity response.
Aside from Facebook users' advocate groups, other bloggers can also take advantage of the communication leverage this free chat box provides. Chatwing team will continue on looking for ways to improve and make the free chat widget more efficient for the premise of online communication.
About Chatwing.com
Chatwing.com specializes in the new field of website chat. Over years, the Chatwing team has introduced live chatbox for hundreds and thousands of blogs. The Chatwing application bridges people from many parts of the world, creating global synergy through the Internet. The shout box can be installed in just seconds, and it can be used for varying purposes such as leisure and Internet marketing. It also allows a user to customize the size, color, and name of the widget. Chatwing is 100% free for everyone.