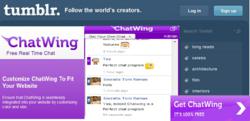 San Francisco, CA (PRWEB) August 21, 2012
Because of its simple interface, it is not surprising that Tumblr attracts more and more bloggers. Tumblr is a microblogging platform which many people find useful. Busy people who still want to connect to the virtual world find Tumblr a perfect fit to their need. Chatwing Development Team recently launches a chatbox to help Tumblr users—especially new ones—gain proper communication advantage, and an obvious edge to blogging competition.
Chatwing's chat widget can be embedded to a web site or blog. This can be done in just a few simple steps that would take a user less than a minute to accomplish. A user only needs to provide his website or blog address to be able to customize the shout box. Customization is about choosing the color and size to blend in to the existing site and to choose the form the chat box will take. There are three available styles: pop-up window, regular chat widget and the direct link URL.
During real time interaction, this free chat box allows a user to directly respond to another user. Through direct link URL, an online user can select how many and who to chat with. Chatwing's social media integration feature also allows anyone to engage in the conversation by logging in with their existing social media accounts.
New Tumblr bloggers will surely enjoy their blogging experience while engaging other bloggers and site visitors. Real time and dynamic chatting activities facilitated by Chatwing's free chat widget will certainly help increase new Tumblr blogger's online traffic.
About Chatwing.com
Chatwing.com specializes in the new field of website chat. Over years, the Chatwing team has introduced live chat box for hundreds and thousands of blogs. The Chatwing application bridges people from many parts of the world, creating global synergy through the Internet. The shout box can be installed in just seconds, and it can be used for varying purposes such as leisure and Internet marketing. It also allows a user to customize the size, color, and name of the widget. Chatwing is 100% free for everyone.