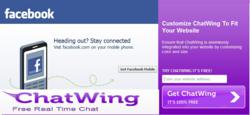 Seattle, WA (PRWEB) August 21, 2012
Facebook has now million of users which is not surprising. Facebook users find this social media network a perfect hub for meeting new friends and updating the world about their daily activities. Aside from that, Facebook also houses numerous entertaining and useful applications that keep boredom at bay for online users. Application blogs are helpful since they discuss the applications—how it works, how it can be downloaded and what web applications are worth the time and attention. Based on global research, blogs are also limited when it comes to user interaction. Chatwing Team addresses this need by creating a reliable and global chat box that enhances real time communication.
This free chat widget is capable of handling hundreds of users at the same time without affecting its efficiency. It also has cute emoticons to liven up chats. Chatwing development team has upgraded this free chatbox to give online users a higher form of control. Facebook bloggers can embed Chatwing's shout box in just a few second without much technicalities. Users can also choose how the chat widget would appear to their sites: pop-up window, regular chat box or direct link URL. Each form caters to a blogger's specific need. For bloggers who have specific targets, the direct link URL will be more applicable. This option allows a user to choose the people he wants to chat with and start a private conversation with them.
Chatwing's chat widget, most of all, has the social integration and social sharing option that will surely benefit FB application bloggers. These features make it easier for more users to join in chat activities since they can log in with their social media accounts and selected conversations can be shared to FB walls easily. Increase in online visibility can also be expected.
Facebook application bloggers now has a chat application they can rely on. Sharing suggestions, opinions and addressing questions from online users can now be done real time and efficiently with the help of Chatwing's shout box.
About Chatwing.com
Chatwing.com specializes in the new field of website chat. Over years, the Chatwing team has introduced live chatbox for hundreds and thousands of blogs. The Chatwing application bridges people from many parts of the world, creating global synergy through the Internet. The shout box can be installed in just seconds, and it can be used for varying purposes such as leisure and Internet marketing. It also allows a user to customize the size, color, and name of the widget. Chatwing is 100% free for everyone.