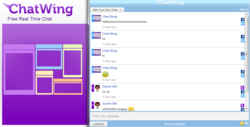 San Antonio, TX (PRWEB) August 21, 2012
The Chatwing Development Team takes another step in the Wordpress community by introducing a simple yet effective website chat box. This chat app has been useful for product bloggers because of the social media integration that it can offer; Chatwing's tool can also be used to generate streams of visibility for any blog or website. The recent version of the chat app also allows users to send shortlinks for centralized group chats. The tool can also be installed in just few seconds.
Product blogging has been a popular niche because of the wide range of information that it can give. Based on Chatwing's research, hundreds of Wordpress product bloggers usually discuss appliances bought online, and some novelty items as well. Chatwing's free chat box can be useful for a product blogger in regards to interaction. Visitors, on the other hand, can save more time by posting questions rather than waiting for blog comments. The Chatwing chatbox can also allow up to 1000 chatters in real-time, promoting wide-scale connectivity at the most.
Chatwing's free shout box has been used for multiple purposes, such as online marketing, soft launching assistance, target market search, and plain entertaining chat. The Chatwing dev team has also tweaked the platform several times, raising its rate of compatibility and efficiency. In Wordpress, the Chatwing team encounters large influx of signups on a daily basis; signups from other communities are also being noted. Also, some bloggers have shared that the free chat widget has helped their blogs generate continuous visibility within a short time frame.
To show their dedication to the premise of website chat, Chatwing's developers are planning to introduce various types of upgrades. These upgrades will further maintain the stability of the Chatwing chat tool. Additionally, the Chatwing team is also considering expanding in other well-known online areas where communication is ace. Currently, the Chatwing team is maintaining a Facebook page loaded with recent updates and news about the shoutbox. The page will also discuss the importance of the Chatwing tool for web surfers and bloggers.
About Chatwing.com
Chatwing.com specializes in the new field of website chat. Over years, the Chatwing team has introduced live chat widget for hundreds and thousands of blogs. The Chatwing application bridges people from man`y parts of the world, creating global synergy through the Internet. The shout box can be installed in just seconds, and it can be used for varying purposes such as leisure and Internet marketing. It also allows a user to customize the size, color, and name of the widget. Chatwing is 100% free for everyone.