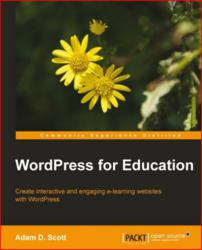 Birmingham,UK (PRWEB) August 19, 2012
Packt is pleased to announce WordPress for Education book and e-book. Written by Adam D. Scott, the book is a s full of screenshots, practical examples, step-by-step instructions and best practices to use WordPress in an educational setting.
WordPress is a free and open source blogging tool and publishing platform powered by PHP and MySQL, which is often customized into a content management system (CMS). This mature and stable product is the official successor of b2/cafelog, and can be completely customizable to be used for almost anything.
WordPress for Education guides educators through the process of setting up a typical class website, creating student blogs, and using it to power a learning management system. It provides clear and practical examples for using WordPress within the classroom and empower them to create useful and engaging e-learning websites.
The book also has a set of examples given that will help them to gain an understanding of how to use WordPress to build an engaging and easy to update e-learning website. Users will also learn about a variety of WordPress plugins that extend its abilities and usefulness in an educational environment, such as creating student blogs, keeping track of classroom events, managing coursework, and developing a classroom social network.
This practical tutorial style book is apt for educators and education personnel interested in implementing WordPress in a classroom setting. No previous experience of WordPress or any other content management system will be required. The book is out now and available from Packt in print and popular eBook formats. To read more about it and download a sample chapter, please visit the Packt web-page.