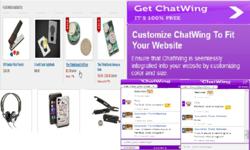 Seattle, WA (PRWEB) August 21, 2012
Everyday, millions of gadgets are being sold in different merchant websites across the Internet. This is based on global statistics and the growing need of consumers. The Chatwing Development Team has done its research, fuelling the launch of its recent chat box. This chat tool is meant to help gadget bloggers reach out to many people at a given time. Gadget bloggers, on the other hand, can use the Chatwing tool to interact with thousands of visitors daily. The Chatwing Team has designed the shoutbox in an easy template to save time on the part of users and bloggers.
The main purpose of the Chatwing chat app is the improvement of global blog interaction. Gadget bloggers can now install Chatwing's free chat box in their blogs, and continuous rate of online presence will follow. Based on the standard online strategies, online presence plays a major role for any blog or website nowadays. The installation of the Chatwing chat tool also takes less than a minute to accomplish. The Chatwing team has also observed that it is common for gadget bloggers to discuss the specifications of their gadgets. Common gadget bloggers who have used the free shout box are Iphone and Android users. Gadget resale is also one of the hottest topics in the technology blogging niche.
Due to a series of platform upgrades, the recent version of the Chatwing chatbox can now hold up to 1000 users simultaneously. This pushes the notch of blog communication by a significant percentage. To ensure that many people will be able to take advantage of Chatwing's benefits, the dev team has introduced the chat tool in different blogging communities and social networking sites. Facebook entrepreneurs have already used the Chatwing shoutbox in their marketing campaigns. The Chatwing team will also introduce several upgrades to keep the chat platform as stable as possible.
To keep users satisfied, the Chatwing team will ensure that the free chat widget will never be hindered by technical glitches. The long-term solution for this is to become wholly dynamic, keeping the Chatwing developers ahead of competition strategically. Maintenance schedules will also be scheduled in order to deal with the growing influx of users from various important online sectors.
About Chatwing.com
Chatwing.com specializes in the new field of website chat. Over years, the Chatwing team has introduced live chat widget for hundreds and thousands of blogs. The Chatwing application bridges people from many parts of the world, creating global synergy through the Internet. The shout box can be installed in just seconds, and it can be used for varying purposes such as leisure and Internet marketing. It also allows a user to customize the size, color, and name of the widget. Chatwing is 100% free for everyone.