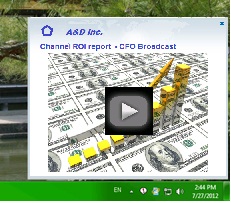 As an employee communication tool, DeskAlerts has proven itself to be the most efficient means of getting critical information to a workforce.
Alexandria, VA (PRWEB) August 20, 2012
Innovative employee communication tool, DeskAlerts has announced the addition of a second groundbreaking new feature, just a week after launching RSS add-ons for improved message efficiency. The latest tool to be added to the alert software is new in-message video recording, allowing audio and video content to be embedded within all internal message communications.
Powered by the message writer's own webcam, the video and audio recording capability allows multimedia content to be created and distributed simply and efficiently. The resultant message can be directed to a specific recipient group, dedicated units within the organization or deployed to individual user desktops. Like all DeskAlerts content, the message and embedded audio or video files are displayed prominently on the computer of the recipient within a highly visible pop up window.
DeskAlerts CEO, Vassily Salomatov said, "As an employee communication tool, DeskAlerts has proven itself to be the most efficient means of getting critical information to a workforce. We pride ourselves on this capability and the fact that communications sent via DeskAlerts can't be missed or ignored in the same way that email can. The new video recording functionality is a continuation of this commitment to creating messages that command attention. Studies have shown that video and audio communications are the most effective means of delivering critical messages, making this new feature of huge commercial value."
A one-way, web-based internal messaging system, DeskAlerts can be used to send urgent alerts and communications even during network failures. It offers a fail safe way to ensure employee receipt of critical information including product and marketing updates, appointment reminders, tech updates and surveys. With video and audio integration, messages can take on a useful multi faceted approach, engaging even the most reluctant of readers.
Video integration is just one of a host of tools DeskAlerts provides the internal communications manager. The system is fully compliant with flash, images and text-based data, provides receipt tracking and central message storage facilities, offers comprehensive security and encryption as standard and offers a range of add-ons.
To find out more about DeskAlerts, visit http://www.alert-software.com
About DeskAlerts: DeskAlerts is the only alert solution that works in technologically and geographically diverse networks. It is a completely web-based solution that can be used to send desktop alerts and news updates to any employee within your organization, improving communications and productivity with a more efficient communication strategy than traditional email alone.