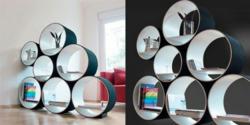 Frugality and practicality doesn't have to exist at the expense of style.
Houston, TX (PRWEB) August 21, 2012
With around 20 million students returning to university campuses this month, the daily design blog FurnitureFashion.com today released a list of the 30 best furnishings for college students. After analyzing feedback from its 20,000 readers and reviewing relevant portions of the home decor data it's pulled together over the past five years, the blog made its recommendations for the best dorm room furniture, as well as pieces for small campus apartments.
Ranging from bookshelves and side chairs to quirky accents and accessories with a bit of humor, each piece represented on the list is compact and contemporary enough to be relevant in a collegiate dwelling -- removable vinyl wall art decals for spaces that prohibit wall hangings, for instance, and beds that also double as work desks when flipped and rearranged.
The http://www.furniturefashion.com co-founders explain, "Clearly, a dorm room isn't meant to look like an interior design showroom; it's a small space with a lot of traffic coming in and out of it. That's why we selected pieces that are durable, versatile, and smart for rooms with little square footage, but also young, modern and fun -- many with a visual twist. Frugality and practicality doesn't have to exist at the expense of style."
Hosting an archive of more than 5,000 furniture-related posts, Furniture Fashion has made a habit of publishing original content 365 days a year since 2007.
The list -- the first of its kind for the site, which normally publishes daily roundups of ten variations on the day's theme -- is divided into four categories: desks, seating, bookshelves and accents. According to the Furniture Fashion team, each object was selected for its blend of style and relevance to teenagers and twenty-somethings living on college campuses.
Furniture Fashion's Top 30 Furnishings for College Students
BOOKSHELVES:
Flexitube by Doris Kisskalt
Movable Dolly Bookcase by StudioDZ
MyDNA Bookshelves by Joel Escalona
Skateboard Shelf from Wal-Mart
Target Bookshelf from Mebrure Oral
Twins Bookshelf by Zeynep Cinisli
SEATING:
Bean Bag from Restoration Hardware
Futon Sofa Bed from Target
Modern Shark Chair from Rene Holten
Bufa Chair from MOWO Studio
Cabinet Chair by Ontwerpers
Ektorp Chair with Slipcover by IKEA
Swoop Swivel Chair by PBTeen
Trace Blue Loveseat from Armen Living
DESKS:
2x2 Console Desk from West Elm
Convertible Workstation from Natalia Boublik
Fold-Out Convertible Desk from Solutions.com
Folding Bed Workspace from Bonbon
Small Space Workstation from Miso Soup Design
Solitaire Workstation from Alexander Lotersztain Studio
Tetris Inspired Storage Desk by Pedro Machado
Chantal File Desk by PBTeen
Otto Workstation Cabinet by John Lewis
EXTRAS:
Dropped Numbers 23-Inch Clock from CB2
Fried Egg Rug by Valentina Audrito
Little Black Rug by John Pour Home
Portable Raskog Trolley from IKEA
Removable Wall Art Decals from Blik
Slice Nesting Tables by Adesso 160
USB Port Lamp from Conof
This list was compiled by the http://www.furniturefashion.com editorial team.