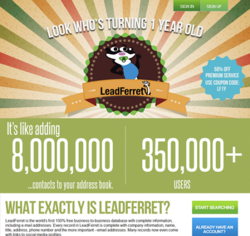 It's also fulfilling to hear from our user and receive emails from them daily about how we have given them the opportunity to achieve greater success.
Calabasas, CA (PRWEB) August 17, 2012
A year ago LeadFerret, Inc. launched their game-changing free business data site, LeadFerret.com, and has made quite a splash in a relatively short period of time.
LeadFerret's concept is simple, yet powerful. They give everyone access to complete and accurate information for millions of business contacts, totally free. Each record includes the contact's email address, phone number, physical address, company information, name, title, etc., and many records even include links to social media profiles. So sales people can find an ideal prospect and actually find our more about what makes that prospect tick by quickly checking their Linkedin, facebook, and Twitter profiles, when available. LeadFerret also provides an amazingly robust set of search tools for a free site. When you combine all this, even the average sales rep, who has historically suffered from a lack of budget to buy leads, has no access to comprehensive sales leads, and/or has no control over the information that their marketing department feeds them, now feels empowered and in control.
"We're really excited about what we've been able to accomplish in our first 12 months." says Forest Cassidy, one of LeadFerret's founders. Forest goes on to explain: "We've helped over 350,000 sales reps, small business owners, entrepreneurs, insurance agents, recruiters, and other business executives gain access to complete information for over 8 million business contacts. Many of them have dealt with the frustration of not having access to this kind of information for years, and it's a great feeling to know that you're liberating them from that frustration. It's also fulfilling to hear from our user and receive emails from them daily about how we have given them the opportunity to achieve greater success, and in some cases even made their prospecting efforts so much more efficient that they're able to actually spend less time in the office and more time with their families, fiends, and doing the things they love. In fact, it was one of our users, a recruiter at a big tech company in Silicon Valley, who originally shared with us that he had found that 'Two minutes on LeadFerret is worth two hours on Linkedin.' It's become somewhat of an unofficial slogan of ours."
In their first year, LeadFerret has not only served free data to over 350,000 people, they also have a strong following in the social media world with over 11,000 followers on Twitter and 19,000 fans on facebook. They have also recently increase the size of their database to 8,000,000 records and launched a premium subscription option.
Stela Cassidy, also one of the founders of LeadFerret summarizes plans for continued aggressive growth for the startup company in the next 12 months: "Our goal is to provide over 1 million users with free data in the next 12 months, add a ton of new features to the site, launch our mobile app, launch LeadFerret.ca and LeadFerret.uk, and establish ourselves as the preeminent destination for anyone looking for business contact information online."
Aggressive? Yes. Achievable? Possibly. One thing is certain: LeadFerret's free data model will permanently change the way people think about sourcing telemarketing lists, mailing lists, email lists, and business contact information in general, thus leading to a new chapter in the evolution of direct marketing.
About LeadFerret
LeadFerret, Inc offers a free B2B database with complete data for millions of business contacts, including email addresses, social media links, and much more. LeadFerret.com was launched on August 11th, 2011, and has seen rapid growth in a relatively short period of time. For more information, go to: http://www.LeadFerret.com
Stela Cassidy
LeadFerret, Inc.
818-392-4303
scassidy (at) leadferret (dot) com