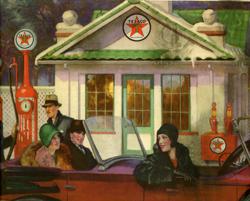 I'm excited for the project, and I hope you...are able to generate a good amount of interest from younger individuals. It's such a great structure"
Gloucester, VA and Boulder, CO (PRWEB) August 20, 2012
Master of Plaster Finishing Systems has come to the rescue with a significant donation of materials to the Edge Hill Preservation & Adaptive Re-use project organized by The Fairfield Foundation and Adventures in Preservation (AiP). The company is sending $1600 worth of their plaster products to Gloucester, Virginia for a week-long AiP workshop where volunteers will help the Fairfield Foundation create a preservation resource center at one of the country's few remaining 1930s service stations.
The Power of Three showed its strength when Master of Plaster contacted AiP and The Fairfield Foundation about supporting the preservation project. The company, a South Carolina firm specializing in plaster restoration, announced the donation with less than two weeks remaining before the start of Adventures in Preservation's volunteer vacation. Their donation includes Restoration Base Coat, Restoration Finish Coat, and Mesh Tape with a total value of $1600. Master of Plaster explains that their product is "the only true pre-mixed, historically accurate restoration plaster available and is manufactured in the United States."
Lauren Dillon of Master of Plaster stated: "I'm excited for the project, and I hope you guys are able to generate a good amount of interest from younger individuals. It's such a great structure."
One of AiP's primary goals is the education of preservation enthusiasts, from students to architects to the general public, and all are welcome to attend AiP's preservation vacations to learn hands-on skills and assist in historic preservation. The week-long project begins August 27, 2012 at the Edge Hill Service Station in Gloucester, Virginia. To learn more about this innovative preservation project, see http://www.adventuresinpreservation.org.
David Brown, a Co-director of The Fairfield Foundation said: "This is fantastic…. 15 pails of material: 12 of the Restoration Base Coat and 3 of the Restoration Finish Coat, plus the 36" Mesh Tape - that will make a big difference!" The Fairfield Foundation purchased the historically and architecturally significant building in 2010 in order to save it from demolition. Volunteers have completed major portions of the preservation work to help the budget go further. The goal of the project is to create a preservation resource center – featuring both archaeology and historic preservation – and involve community members in their local history.
Adventures in Preservation
Adventures in Preservation is a non-profit organization connecting people and preservation through enriching experiential programs. One- and two-week hands-on volunteer vacations give participants the opportunity to travel, experience their destination, and learn hands-on skills while saving a valuable community resource. AiP envisions a world where people use, understand, and appreciate historic buildings that are vital to economic and environmental sustainability. Learn more about how AiP volunteers combine their power with the strength of local communities to make a difference at http://www.adventuresinpreservation.org.
The Fairfield Foundation
The Fairfield Foundation combines research, public education and preservation as the cornerstones of their non-profit's goals. Ongoing work at the Fairfield site is contributing significantly to knowledge about plantation life, specifically during Gloucester County's "Golden Age" of 1675-1725, which coincides with the height of Fairfield's prosperity. Sharing this knowledge with the public will increase the awareness of significant archaeological resources within the county and the importance of this period to our history. Public outreach and educational programs serve as examples of how to properly investigate, interpret, and preserve historic resources within the county.
###