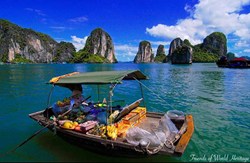 Smile Travel Vietnam always ensures to serve customers with the best and cheapest service
(PRWEB) August 17, 2012
To cater for the large number of tourists coming to Vietnam, Smile Travel Vietnam opens more tour packages for the most visited places in the country. It is predicted that one of the most attractive destinations in the next time is Cat Ba. Therefore, Smile Travel Vietnam especially puts the emphasis on improving Tours in Cat Ba. Presently, it is launching a big discount on tours for the customers booking soon. In addition, it has renewed the service system to offer customers wonderful vacations.
Located in the North East of Hai Phong Province, Cat Ba is famous for the spectacular and peaceful landscape. Cat Ba Island, which has long been honored as the Pearl Island, owns the National Park with a variety of typical rare flora and fauna species. Also, it has a large collection of marine creatures in fishing grounds such as shrimps, anchovy trap fish, and tortoise shells. It was recognized as the biosphere reserve of the world in 2004 and highly appreciated by those who like ecological tourism.
Visiting Cat Ba, tourists will be surprised by the magic beauty of immense limestone forests, marvelous grottoes, and white sandy beaches. It takes about an hour to go by ferry to reach this spacious island endowed with tropical jungles.
As for those who love the quiet atmosphere, a boat ride would take them to the surrounding small islets where they could experience the amazing quietness and authentic setting of the sea. For many years, the island has been renowned for its rugged limestone mountains, hot and cold springs, moist tropical forests, mangrove forests, coral reefs, and casual island lifestyle. Cat Ba is now much sought after by international visitors as an ideal alternative to the city madness boredom.
It must be the greatest moment in the lifetime if tourists have the chance to see the sunset here. The combination of golden sky and blue sea creates a splendid picture, which touches the hearts of many visitors. Cat Ba Island has also impressed visitors with many fascinating and beautiful caves. It is said that the masterpiece of nature favored this island as a gift. Especially, forests here will turn into natural flower gardens after spring when flowers blossom everywhere. Deep in the forest visitors can find the full beautiful lake giving such a nice moment that are unforgettable for many people. Besides, tourists will have chances to stay at comfortable resorts such as Cat Ba Resort and Spa. Most of them are designed after French colonial architecture combining with the ancient original style of Vietnam.
Known as one of the largest island in Ha Long Bay, Cat Ba actually matches the beauty of Ha Long Bay thanks to its stunning natural charm. Coming here, tourists not only enjoy a wonderful natural landscape but also experience an interesting cultural exchange and adventure. Indeed, Cat Ba was officially recognized as the Archipelago Biosphere Reserve by UNESCO.
To reach such a dream island, tourists may consider about the price. However, they now have no troubles at all with the cheap service offered by Smile Travel Vietnam. Just spending $122 - $245, tourists can enjoy a fantastic holiday in 3 days and 2 night. Otherwise, they can contact Smile Travel Vietnam to book optional tours with the discounted price. Smile Travel Vietnam always ensures to serve customers with the best and cheapest service.