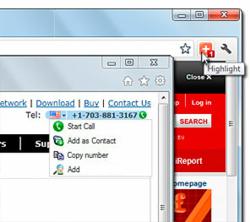 Where once browser add-ons would have required a team of programmers, our Add On Framework tool simplifies browser add-ons development.
Alexandria, VA (PRWEB) August 21, 2012
Businesses looking for ways to increase revenue and retain existing customers can record a 47% increase in service use simply by incorporating browser add-ons development into their marketing strategy according to one leading US tech firm.
BestToolBars build add-ons and toolbars for all browsers and in a recent study, found that the add-on accept rate for customers who have bought a product is 2.3%. Statistics show that customers installing the add-on will then use the services of that company an average of 47% more than if no add-on was present. This data is a boost for those looking for fresh new ways to strengthen the bottom line in the midst of a recession.
Other benefits found to be present as a result of browser add-ons include the potential to occupy browser real estate for a permanent presence on client desktops, improved lead generation prospects, better customer engagement, dramatically increased cross-selling opportunities, improved customer service and the chance for brands to carry out market research to better understand their customer base.
Andrew Kudrin, CMO of Besttoolbars said, "Where once browser add-ons would have required a team of programmers, our Add On Framework tool simplifies browser add-ons development making the business benefits of add-on possession so much more accessible to companies large and small. Many thousands of people search for add-ons everyday and browsers like Mozilla Firefox and Opera would not enjoy the success they do without using add-ons as a strategic marketing channel."
The are numerous examples of the power of add-ons in today's tech-orientated marketplace. With web users becoming more savvy and customers showing decreased brand loyalty, a trusted, robust and simplified browser add-ons development solution can give a very real competitive edge. One real time weather forecasting service used a BestToolBars add-on for Chrome as a distribution channel to attract more customers. Using the single browser plug in, they recorded an uptake of 380,000 users. A file sharing service reported similar results with 470,000 users installing their Chrome add-on in a short timeframe. A popular VOiP service has also seen its investment in plugins pay off with 50 million installations and 5% of revenue generated by a browser extension alone.
By simplifying browser add-ons development, the BestToolBars Add-On Framework can reduce development time, lower costs and speed up add-on changes, placing business benefits to immediate hand for any size of corporation. The framework supports all major browsers and is future-proofed against browser upgrades, meaning code doesn't need to be rewritten when a new browser version is launched.
To find out more about Besttoolbars and Browser Add-On Framework, visit http://besttoolbars.net/ or call: +1-703-881-3167.
About Besttoolbars: Besttoolbars is a company well known for creating browser toolbars and add-ons. It has worked with an array of global brands, from start-ups to high-profile Fortune 500 corporations. More than 7000 companies currently use solutions created on the Besttoolbars platform.
Besttoolbars also offers a number of services to help businesses integrate their products with desktops and mobile phones. It provides custom browser development, add-ons, add-ins and mobile app development.