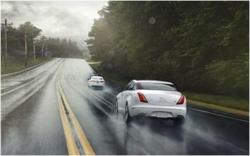 (PRWEB UK) 19 August 2012
All wheel drive versions of the latest Jaguar XF and XJ saloons will be introduced next year in selected markets, but not the UK.
North America, Russia, China and continental Europe will account for the majority of sales for the new AWD models powered by Jaguar's new 3.0-litre V6 supercharged 340PS petrol engine with an eight-speed automatic transmission.
With AWD occupying less than five percent of the UK luxury saloon market, the AWD XF and XJ will not be offered in the UK for 2013 Model Year, which means it could be added in subsequent years.
Adrian Hallmark, Global Brand Director, Jaguar, said: "Jaguar has revitalised its core range and is now undertaking an intensive programme of introducing new models, strategic powertrain and technologies to reinvigorate the Jaguar brand around the world.
"The new AWD products are another example of how we are taking the Jaguar business forward by thinking globally and targeting specific market opportunities by addressing specific regional requirements."
The United States is the world's leading market for AWD sales and initially more than three quarters of the AWD models produced at Jaguar's Castle Bromwich factory in the UK from October 2012 will be sold in the US.
With the new addition to the XF and XJ ranges Jaguar will compete in approximately 80 per cent of the luxury saloon market, four times its previous opportunity.
The AWD system is powered exclusively by Jaguar's new 3.0-litre V6 supercharged petrol engine in 340PS form driving through an eight-speed automatic transmission and featuring Stop/Start technology.
Jaguar AWD operates 'intelligently', continuously monitoring grip levels and driver inputs to both pre-empt and react to wheel-slip, enabling maximum traction in all conditions.
Feed-forward torque distribution allows the system to actively anticipate wheel slippage and prevent it occurring, therefore providing greater driver confidence and vehicle stability in low-grip scenarios. Torque split can be up to 50:50 front/rear.
At speed in normal grip conditions the AWD system delivers drive predominantly to the rear wheels, thus providing the dynamic driving experience all Jaguars are renowned for, while maximising powertrain efficiency.
Suspension and steering systems have also been reengineered in order for the AWD XF and XJ to match their rear-wheel drive counterparts' acclaimed driving dynamics.
Keep up to date with the latest in our b usiness car new s section and if unable to get hold of a 4WD model take some of the company car driving advice