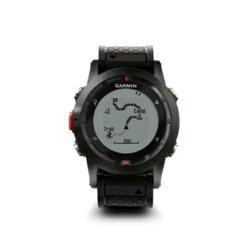 The versatility of these watches is enormous and they cross the boundaries between so many different activities it is hard to characterize because you are always finding additional uses
Bozeman, MT (PRWEB) August 18, 2012
Garmin fenix is a very unique GPS wrist watch because it can be a handheld, a running partner, cycling partner, skiing partner, hunting partner, ATV partner and much more. The uses are only limited by one's imagination, it even offers heart rate data.
"The Garmin fenix, along with its predecessor the Suunto Ambit, have created a entirely new
GPS watch category that we call outdoor adventure sports watches", says Rusty Squire, President of the Heart Rate Watch Company. "The versatility of these watches is enormous and they cross the boundaries between so many different activities it is hard to characterize because you are always finding additional uses".
Garmin fenix offers a barometric altimeter, compass, heart rate (with optional chest strap), and something no other GPS watch offers - onscreen mapping and track back functionality. "The on screen maps and track back are the big deal here and while the fenix does not offer the level of detail of USGS maps it is better than anything else available", says Rusty Squire, President of the Heart Rate Watch Company.
Squire said that customers so far have included hunters, skiers, ATV riders and many non-traditional Garmin GPS watch customers. "This watch has such a huge appeal across such a diverse audience that it truly is all alone in a class by itself because these are not traditional GPS watch customers that are buying it", says Squire. He adds, "This watch offers something for virtually every outdoor sport or activity on the planet and while it is great for athletes it works in many other situations very well".
GARMIN CONNECT
The level of map detail in Garmin Connect software is legendary among cyclists and runners and this same level of detail gets brought to the table with Garmin fenix and it further allows export to other software platforms.
"The Garmin fenix is hot as a pistol and if you want one then now is the time to order because they'll be getting delivered in just a few weeks", says Squire. He adds, "The watch did receive FCC approval, a fact that we verified with Garmin representatives last week so the rumors of delay are not founded based upon approvals".