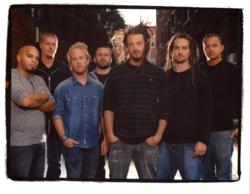 Napa, CA (PRWEB) August 17, 2012
Mention folk music to the average listener and the list of usual suspects come to mind: Bob Dylan, Joni Mitchell, Woodie Guthrie, etc. Talk to SOJA lead singer/guitarist Jacob Hemphill, however, and you'll walk away with a different perspective. "To me, Rage Against The Machine, Wu -Tang Clan, Sade, Johnny Cash, Bob Marley – they're all folk artists," he says. "There's no difference between Raekwon saying, 'I grew up on the crime side, the New York Times side, where staying alive was no jive,' to Bob Marley saying, 'Cold ground was my bed last night and rock was my pillow, too,' to Johnny Cash saying, 'I know I had it coming, I know I can't be free, but those people keep on moving (around) and that's what tortures me.' Folk is all about storytelling and passing on a legacy. It's timeless, it's limitless and it crosses all boundaries. That's what this band is striving for. It's a tall order," he laughs, "but we're making our way."
They're raising the bar with Strength to Survive, their fourth full-length album, an intoxicating mix of hot-rod reggae grooves and urgent, zeitgeist-capturing themes. The album, produced by John Alagia (Dave Matthews, John Mayer, O.A.R.), will be the band's first for ATO, the label co-founded by Dave Matthews.
Hemphill says the album was greatly inspired by Bob Marley's Survival. "That's the greatest reggae album ever made," he says. "It has the best bass lines and the best lyrics ever heard on one record. Marley wrote it after he went to Africa. I was 13 or 14 when I listened to it for the first time and it triggered all these long-forgotten memories of when I lived in Africa as a kid. My dad was an IMF res rep in Liberia in the late 80's. I remember when the coup first started—- my family had to hide in these iron bathtubs for 3 days because the military was shooting at everything. I was 7 and that was one of my first memories. We made it out on the last flight. So Africa was always a big part of our lives—- it defined our family, in a way. Music came right after that, so, for me, music was always tied to Africa and music was always something powerful."
Tickets for SOJA plus Thrive are $30. They are on sale now and can be purchased through the theatre website at http://www.uptowntheatrenapa.com, at Ticketmaster (http://www.ticketmaster.com) or at the theatre box office (please call 707.259.0123 ext. 6 for hours). To find out more, please visit http://www.uptowntheatrenapa.com.