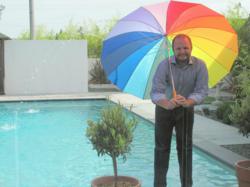 Our staff will be out every day doing a sun dance!
Gatwick, West Sussex (PRWEB UK) 17 August 2012
In what has arguably been the perfect storm for seasonal businesses, namely a depressed economy coupled with the worst summer weather on record, one young entrepreneur is sailing a trend-bucking course through it all with their latest, rather unique, proposition.
Alex Kemsley, managing director of the Waterstream Group based in the South East (UK), is so confident that we're in for an Indian Summer, that he is guaranteeing the sunshine for anyone who buys a pool or a hot tub from them over £6,000 between now and the official end of British Summer Time - and paying them in hard cash if he's wrong!
Alex says, "No, we've not gone completely mad! But we are so confident that it's going to be glorious between now and midnight on October 28th, that we're going to give back £5 for every day it rains to anyone who buys a selected pool or hot tub between the date of their purchase and the end of BST. We've been told that we could potentially be giving back a lot of money, but it's a bit of fun and encouragement for all our staff to be out every day doing a sun dance! It's also to highlight that, hot tubs in particular, are at their most invigorating and enjoyable when used in showers of rain or snow."
Clearly there is some small print, but the essence of the promotion is that if the Met Office (to ensure it's all fair and above board) record any precipitation during a 24 hour period in the customer's postcode, they get £5 cash back for every day that happens between now and the end of British Summer TIme in October.
Bizarrely, it appears that Waterstream could be on to something with their predictions, as temperatures are forecast to hit 30°C in the south east this weekend!
So, not so mad after all?