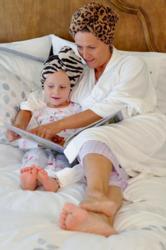 When hair is wrapped in a Turbie Twist it dries faster while staying in place.
Butler, PA (PRWEB) August 19, 2012
Back-to-School season can put stress on the entire family. After spending the summer staying out late and having the luxury of sleeping in, children must get back into the structured school routine. Mothers often feel the strain of this as the time they typically spend getting ready in the mornings is compromised when they have to make sure the children are prepared for a day at school.
Below are 5 tips for making an effortless transition from summer to school.
1. With an earlier bedtime and alarm clocks set for times much earlier than they have been accustomed to over the summer, children and teens often wake up short-tempered and grouchy—making it even harder for them to get ready for the day. The super absorbent fabric of the Turbie Twist® reduces hair's drying time. Less time spent drying equals more time spent sleeping; and that extra time sleeping-in means children will be less irritable in the mornings.
2. The Turbie Twist® does not only make mornings easier for children and teens, but also for mothers as well. When hair is wrapped in a Turbie Twist® it dries faster while staying in place. This means that while lunches are being packed, clothes are being picked out, and breakfast is being made, the time spent drying hair later is reduced—making morning routines for mothers easily adjustable to children's schedules.
3. Send the kids to school with a Turbie Twist® to make gym class a breeze! School's physical education programs often include a few weeks of swimming. With minimal time to shower and get ready after swimming before they have to go to the rest of their classes for the day, kids often dread going to gym during the weeks that they have to swim. Wrapping hair in a Turbie Twist® can allow students to multitask and make use of the little time that they have to prepare themselves for the rest of the day.
4. It's often difficult to ease younger children back into the structure of the school routine, making them extremely unwilling to give up time playing with their friends so they can come inside to take a bath and get ready for bed. Turbie Twist® can help make bath time more appealing. The Turbie Twist® comes in a variety of vibrant colors and patterns and allowing a child to pick one to wrap their hair in after they bathe can make the whole process more appealing to them.
Hint: Don't worry about not finding a Turbie Twist® that fits—they are one size fits all! The Turbie® twist has an elastic loop which allows women of all ages to twist and pull the loop as far as needed to fit comfortably.
5. School is back in session, and with that comes activities and sports. Spare the puddles by sending children on the swimming and diving team to practice with a Turbie Twist® to wrap their hair in afterwards. As the weather gets cold, children can comfortably make the walk from school to the car without worrying about getting ill and missing school. A Turbie Twist® will make the ride home more comfortable as well because it will prevent hair from dripping on to the seats and on the back of clothing.
Get ready for the first day of School, and every day with Turbie Twists available at retailers like: Bed Bath and Beyond, Walgreen's and CVS.
To learn more about Turbie Twist visit http://www.TurbieTwist.com and find us on Facebook, Twitter, and Youtube.
About Turbie Twist, LP
Turbie Twist, LP is the sole manufacturer and distributor of the Turbie Twist® hair towel. The Turbie Twist® is smaller and easier to use than an ordinary bath towel that simply falls off.
The Turbie Twist® is a revolutionary product that allows one to be the ultimate multi-tasker while drying their hair. It's unique twist and loop system makes it the hair towel that stays in place. Featuring a tapered design the Turbie Twist® allows for a perfect fit on all head sizes. It allows users to get dressed, apply make-up, and check email - all while drying their hair.