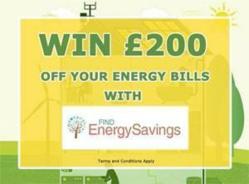 Household energy bills have increased by 91%
(PRWEB UK) 21 August 2012
After the Bank of England has warned that gas and electric bills could rise by another 2.5% by Winter, Find Energy Savings, renewable energy website, has decided to ease the strain for one lucky household.
To be in with a chance of winning, entrants need to like the company's Facebook page, and enter details in the competition tab.
Commenting on the competition and the energy price increases, Manager at Find Energy Savings, Justin Elliot said:
"It was recently concluded by uSwitch that in the last six years, household energy bills have increased by 91% meaning what cost £660 a year in 2006 is now closer to £1,200. This isn't a sustainable way of running a home and it's time to look at alternative ways to save.
"With most families already pushed to their financial limit, any further price hikes in the future are going to fill them with immeasurable dread and worry. We want to make a difference to at least one household before the price increases over the Winter months.
"We want to use Facebook for the competition because a lot of our audience is already on the social platform, and if we can give tips and advice whilst promoting renewable energy, then this is a good thing for everyone."
One lucky winner will be randomly selected on 31st August 2012 and they will be contacted by Find Energy Savings in September via e-mail address.
For more information about how to enter the competition click here.