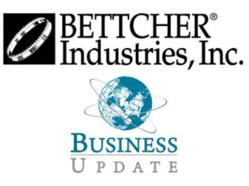 Birmingham, OH (PRWEB) August 18, 2012
Bettcher Industries, developer of the Optimax, announced today that they would be featured in an upcoming episode of Business Update.
Bettcher Industries, a leader in food service for 30 years, is revolutionizing the food service industry with the Optimax, an automatic breading solution for restaurants. Considered the pinnacle of breading technology, the Optimax provides food service professionals with the ultimate level of consistency and great tasting food.
In this episode, Business Update will explore the exciting advancements currently being made in food service equipment manufacturing. Today, technology is influencing the way that food is prepared like never before. Whether it is through improved performance, or simply an increased understanding of the value of wholesome ingredients, Business Update: Food Service in America will show television audiences nationwide a never-before-seen side of the culinary world.
"We are excited to see our innovative product highlighted in Business Update. We have been designing equipment solutions that focus on maximizing the efficiency and effectiveness of a process for over 70 years. The exposure this series brings to Bettcher and the growing revolution taking place in the foodservice industry around fresh-not-frozen cooking, supporting local food sources, and kitchen innovation is priceless," said Paul Pirozzola, Vice President of Marketing for Bettcher Industries.
This particular segment will focus on how the Optimax is rocking the landscape of the restaurant industry. Thanks to the Optimax, restaurants nationwide can bread their own food, rather than rely on frozen, processed and packaged food for their customers. This represents a significant shift in sustainability, as well as an increased focus on locally sourced food.
"Understanding that you can save money, produce better quality food, and improve productivity in your kitchen – that's the key to our value story," emphasized Pirozzola.
"The Optimax represents a fundamental shift in the food service industry in America," said Charles Cowan, producer for the series. "Thanks to Bettcher Industries, we are beginning to see more restaurant operations breading their own food, purchased from local farmers and growers."
About Business Update:
Business Update is a corporate-America type series covering the world of business, finance and technology. From Main Street to Wall Street, our award-winning producers take an in-depth look into some of the hottest topics and current trends impacting our society.
About Bettcher Industries:
Bettcher Industries is a leading developer and manufacturer of innovative precision cutting and trimming tools for food processing, industrial and medical applications. The company also manufactures equipment for the restaurant, fast food and institutional foodservice industries.
All products developed by Bettcher are designed to contribute to better working health, safety and comfort, while also improving the efficiency and bottom-line profitability of the companies that buy them.
For more information, visit: http://www.bettcher.com/foodservice or call (800) 321-8763.
Media Contact:
Wayne Daggett |
Content Marketing Manager | Bettcher Industries, Inc.
440-204-3203