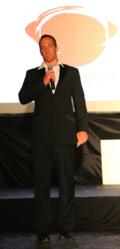 It is wrong that every 8 seconds a child dies from malnutrition. I long for a time when a generation will say, 'It is enough, we are going to put a stop to this.'says Peter Pretroius, founder of JAM.
Washington, DC (PRWEB) August 19, 2012
JAMSA launched TeamRedBowl this past week in South Africa at a gala event held at Avianto on the outskirts of Johannesburg. The event was sponsored by Avianto and was a complete sell-out.
One of South Africa's foremost rugby legends, Stefan Terblanche who is now CEO of South African Rugby Legends Association (SARLA) and a dedicated partner with JAM, spoke at the function, sharing why he became a TeamRedBowl Captain and why he is forming his own team to fill red bowls. " I have been so fortunate to have had my career and experienced the things I have experienced but it is now time to give back. In SARLA we are giving back by teaching disadvantaged youngsters how to play rugby and once we came across JAM we have become fully committed in giving back to provide our nations children with good nutrition by filling red bowls," he told the crowd. http://www.teamredbowl.com
It was however Mama Rose who stole the show when she explained what the little red bowl has meant to her and the children she cares for in her little pre-school. Rose said, "Since JAM came, everything changed. . The children used to come in the morning and they would cry because they were hungry, they were sick and struggling but now the children are happy. They have changed. Even how they look has changed." She pointed to the little five year old girl who accompanied her saying, "I brought one of my little girls so you can see for yourself. Her name is Precious and you can see how beautiful she looks." She then gave the microphone to this cute little Precious who spoke so well for a little girl in front of a large crowd. She thanked JAM for the food and the chance they have given her and then sang a song about the seasons of the year. This little girl has the right name, she is truly precious. Mama Rose finished off by saying, "The red bowl is like a traffic light - Red to stop poverty!"
Peter Pretorius, Founder of JAM, closed the evening by saying what TeamRedBowl means to him. "I love launches like these because it means that more children will be fed. Our dream for TeamRedBowl is big but I believe in dreaming big. It is wrong that every 8 seconds a child dies from malnutrition. I long for a time when a generation will say, 'It is enough, we are going to put a stop to this.' I believe TeamRedBowl can be the vehicle that will enable us to put a stop to this. If we all work together around the world we can do it. It only costs $50.00 to feed a child for year. We all can do it.. let's do it together."
About Team Red Bowl:
Team Red Bowl is a program of community action made up of team captains who each lead their team to raise $10,000 to feed and educate 200 African children for a year. The Red Bowl has come to represent life for thousands of African children who without it would go hungry. Team Red Bowl is a movement of lives being changed, with YOU leading the way. My Team Red Bowl is a platform for the teams and members of Team Red Bowl to connect with each other, collaborate and brainstorm.
About JAM
Joint Aid Management (JAM) is a South African founded registered non-profit, Christian humanitarian relief and development organization with 28 years of experience in relief and sustainable development. http://www.jamint.com
JAM's programs focus on nutritional feeding, school feeding, assistance to orphans and vulnerable children, the provision of water and sanitation, as well as skills development, community training on agricultural development, income generation projects and HIV/AIDS programming.
JAM strongly believes that without education, there can be no development. Effective education is only attained through the quality of schooling and most importantly, adequate nutrition, which allows a child to effectively focus, retain, and apply what is being learned. JAM currently assists more than 751,000 children through nutritional feeding programs, health and social welfare programs.
USA offices are located at 1808 I St. NW Suite 800 Washington DC 20006
Tel: 202.706.5333