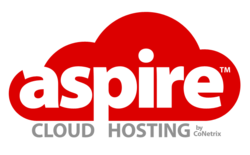 "Cloud hosting with Aspire has allowed me to manage and serve our trucking customers, not my IT department." - Richard Ellis, CEO Paul Musslewhite Trucking
Lubbock, TX (PRWEB) August 21, 2012
CoNetrix is a full-service computer networking firm that serves small to medium-sized businesses in the Southwest, and financial institutions across the US. They have expanded their services to include cloud hosting under the Aspire name and logo. Aspire Cloud Hosting can provide complete enterprise class cloud hosting services including e-mail, application hosting and disaster recovery.
Hardly a day goes by now without hearing the term "Cloud Computing." What does that really mean, and why is it changing the way modern businesses operate? The concept is simple: deliver shared computer resources, software, and information to users on demand via the Internet.
Omega Physicians Billing Services was one of the first Aspire Cloud Hosting customers. Omega has been a CoNetrix client for over two years. Company CEO Deana Perry says, "The Aspire Cloud hosting service has enabled my business to focus on what we do best, physician billing services, and have the peace of mind knowing that all of our IT needs are being well managed. Our questions and service needs are always addressed quickly and well resolved. We appreciate the Aspire services!"
Paul Musslewhite Trucking is an oilfield service company based in Levelland, TX. Musslewhite hosts their critical applications with Aspire – including 14 servers and over 150 users. Company President and CEO Richard Ellis explained, "Cloud hosting with Aspire has allowed me to manage and serve our trucking customers, not my IT department."
The Aspire Cloud Hosting service allows businesses to reduce or eliminate on-premise technology such as servers, data storage, and backup equipment. Instead of housing bulky and expensive technology, customers can transition their software applications and data to enterprise-class computer infrastructure accessed securely via the Internet. The Aspire website includes a savings calculator for businesses to estimate their possible savings.
CoNetrix is a full service computer networking, security and compliance firm built on the principles of integrity, innovation, and initiative. CoNetrix has roots dating back to 1977, when it was founded in Lubbock, Texas and now serves customers across the US, in over 40 states.