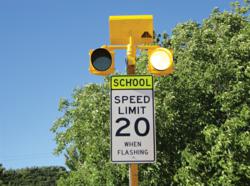 This new flashing beacon system lets you mount the beacons in a variety of configurations for unlimited applications.
Spring Valley, NY (PRWEB) August 20, 2012
Traffic Logix, a leading purveyor of traffic calming and safety solutions, announces the launch of the new SafePace Beacon System. The flashing beacons, previously only available as part of the complete SafePace School Zone System are now available as a standalone product. The SafePace beacons are the newest addition to the Traffic Logix SafePace series of radar speed displays and speed trailers.
The SafePace Beacon System alerts drivers to changes in driving conditions such as a school zone or pedestrian crossing. More than just a school zone flashing sign, the Beacon System is useful in a variety of applications to heighten motorist awareness when approaching construction, a traffic signal, a hidden curve, or stop sign. The SafePace Beacon System includes flashing beacons in a choice of amber (yellow) or red beacons which can be mounted on their own, with a regulatory sign such as a speed limit sign or stop sign, or along with a radar speed display sign. Proven to reduce injuries and fatal crashes, flashing beacons remind drivers to be more vigilant of their surroundings.
The Traffic Logix SafePace Beacon System includes easy to use management software that allows you to program the beacons to flash based on daily and hourly scheduling including holiday and exception days. A master/slave relationship allows you to set-up and operate numerous units from one beacon unit. The bright flashing beacons offer excellent visibility even in poor lighting conditions and include a two year limited warranty. An optional solar system offers the option to power your beacons off of renewable energy. The Traffic Logix Beacon System is a low cost, low maintenance solution.
The innovative design of the SafePace Beacon System houses the solar panel, batteries, and controls all in one enclosure, eliminating the need for a bulky enclosure on the side of the pole.
"We offered a complete beacon system previously, including a speed limit and radar display sign, but kept getting requests for a standalone beacon system," said Ben Cohen, director of product development for Traffic Logix. "This new flashing beacon system lets you mount the beacons in a variety of configurations for unlimited applications."
The SafePace Beacon System is available by ordering from Traffic Logix, which is headquartered in Spring Valley, NY. More detailed information on the beacon system is available on the company website.
Traffic Logix is a direct sales manufacturer of a complete line of traffic calming solutions including radar speed signs, speed display signs, and radar trailers, as well as modular rubber solutions such as speed humps, speed tables, and speed cushions. Traffic Logix solutions have been installed in more cities than any other company's products. For more information about Traffic Logix, visit the company website, follow us on twitter, or contact us via email.